Road Closures Due to El Portal Fire

The Big Oak Flat Road between Crane Flat and the El Portal Road is temporarily closed. There is no access to Yosemite Valley via the Big Oak Flat Road or Highway 120. Tioga Road is open and accessible via Big Oak Flat and Tioga Pass Entrances. More »
Campground Closures Due to Fire

Crane Flat, Bridalveil Creek, and Yosemite Creek Campgrounds are temporarily closed. More »
Yosemite National Park is Open

Yosemite Valley, Glacier Point, and Wawona/Mariposa Grove areas are open and accessible via Highways 140 and 41. Tioga Road is not accessible via Highways 140 and 41 due to a fire.
Wildlife and Other Sightings: Funnel-web Spider
Funnel-Web Spider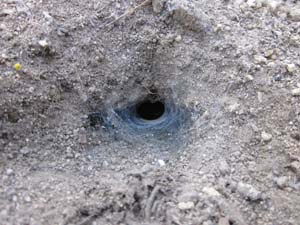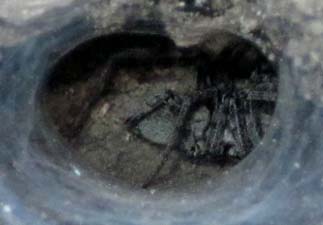 August 27, 2012
White Wolf Area
This rodent hole in some granite sand near White Wolf was nicely lined with a finely-woven web. Peering down into its recesses, at first, I could only see a deep, dark abyss. Getting down on my hands and knees, I could eventually see a looming shape inside. Funnel-web spiders (this one could have been Novalena intermedia) create broad sheet webs with deep, protected retreats and wait patiently for their unsuspecting insect prey to stumble into their appropriated lair.

Post A Comment
Did You Know?

In 1984, 83 miles of the Tuolumne River were added to the Wild and Scenic Rivers System by Congress with an amendment to the Wild and Scenic Rivers Act. This included 54 miles of the river within Yosemite National Park.