Road Closures Due to El Portal Fire

The Big Oak Flat Road between Crane Flat and the El Portal Road is temporarily closed. There is no access to Yosemite Valley via the Big Oak Flat Road or Highway 120. Tioga Road is open and accessible via Big Oak Flat and Tioga Pass Entrances. More »
Campground Closures Due to Fire

Crane Flat, Bridalveil Creek, and Yosemite Creek Campgrounds are temporarily closed. More »
Yosemite National Park is Open

Yosemite Valley, Glacier Point, and Wawona/Mariposa Grove areas are open and accessible via Highways 140 and 41. Tioga Road is not accessible via Highways 140 and 41 due to a fire.
Wildlife and Other Sightings: California Grey Squirrel, Ponderosa Pine, and Sugar Pine
California Grey Squirrel, Ponderosa Pine, and Sugar Pine
Sciurus griseus, Pinus ponderosa, and Pinus lambertiana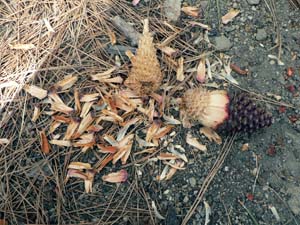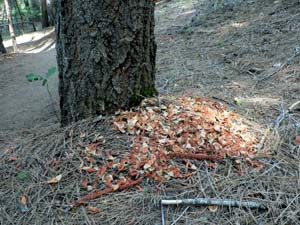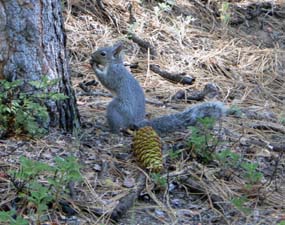 August 6, 2012
Hodgdon Meadow Campground

What a curious sight - this pile of shredded pine cones scattered throughout the forest floor in the Hodgdon Meadows Campground! Who are the culprits? In this case it was the California Grey squirrel who has been dismantling these Ponderosa Pine and Sugar Pine cones. The piles show the "cob" of the cone, the stripped off scales, and outer coverings of the pine "nuts" held within the cones. These seeds are high in protein and a great source of nutrients for the squirrels. In the campground area, I also saw a laboriously-working Grey Squirrel, who had just been dragging a green and not-yet-opened Sugar Pine cone that was as large as he was.

Post A Comment
Did You Know?

In 90 years of serving Yosemite National Park, the Conservancy has seen many accomplishments. From restoring the habitat of the great gray owl to funding the first museum in the Valley, Yosemite Conservancy has played a vital role in the preservation and protection of Yosemite. More...