Road Closures Due to El Portal Fire

The Big Oak Flat Road between Crane Flat and the El Portal Road is temporarily closed. There is no access to Yosemite Valley via the Big Oak Flat Road or Highway 120. Tioga Road is open and accessible via Big Oak Flat and Tioga Pass Entrances. More »
Campground Closures Due to Fire

Crane Flat, Bridalveil Creek, and Yosemite Creek Campgrounds are temporarily closed. More »
Yosemite National Park is Open

Yosemite Valley, Glacier Point, and Wawona/Mariposa Grove areas are open and accessible via Highways 140 and 41. Tioga Road is not accessible via Highways 140 and 41 due to a fire.
Wildlife and Other Sightings: Balloons
Balloons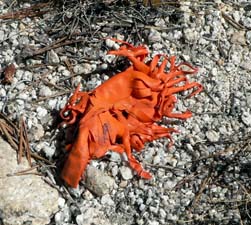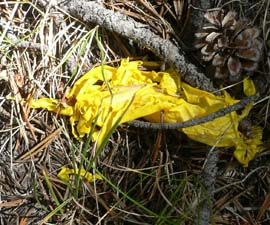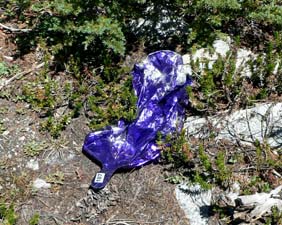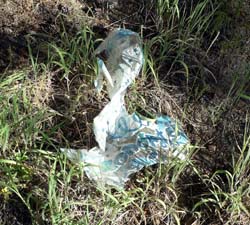 Summer 2012
What are these balloons doing in Yosemite? These pictures were all taken at off-trail locations in the park wilderness, miles from any developed area. When helium filled balloons escape from parties or graduations, they rise quickly into the atmosphere, sometime reaching heights of five miles. At this point they either burst and fall to earth or get carried by the wind until they slowly deflate and sink. Either way, they can travel large distances, including into the backcountry of Yosemite. Latex balloons will ultimately biodegrade, but Mylar - or more correctly, metalized nylon - balloons, ribbons, and other plastic items will take hundreds of years to break down (and even then they won't decompose, only becoming microscopic pieces of plastic). The next time you are at a party, remember Yosemite and hang on tight to that balloon!  


Post A Comment
Did You Know?
In Wawona and downstream, the South Fork Merced River provides habitat for a rare plant, the Sierra sweet bay (Myrica hartwegii). This special status shrub is found in only five Sierra Nevada counties. In Yosemite, it occurs exclusively on sand bars and river banks along the South Fork Merced River downstream from Wawona and on Big Creek.