Road Closures Due to El Portal Fire

The Big Oak Flat Road between Crane Flat and the El Portal Road is temporarily closed. There is no access to Yosemite Valley via the Big Oak Flat Road or Highway 120. Tioga Road is open and accessible via Big Oak Flat and Tioga Pass Entrances. More »
Campground Closures Due to Fire

Crane Flat, Bridalveil Creek, and Yosemite Creek Campgrounds are temporarily closed. More »
Yosemite National Park is Open

Yosemite Valley, Glacier Point, and Wawona/Mariposa Grove areas are open and accessible via Highways 140 and 41. Tioga Road is not accessible via Highways 140 and 41 due to a fire.
Update for February 27, 2013
Weather: February 21st through February 27th
High temperature: 43°F (February 22nd) *possibly higher: rangers out on snow surveys
Low temperature:  -3°F (February 21st)
New snow: none
Total settled snow depth: 41 inches as of February 24th

Skiing Conditions and Weather: Whether you asked for it or not, spring is in the air. Warm temperatures and cool nights are forecast for the week. If we are lucky, this will provide for an early harvest of corn snow, although we prefer a diet of powder this time of year. Now is a great time for ski touring although variable conditions still exist, especially up high (wind crust, sastrugi).

Avalanche and Snowpack Conditions: For the latest avalanche advisory for this area go to www.esavalanche.org for the Eastern Sierra Avalanche Center and click on advisory. The ESAC site is updated several times a week and more often during weather events.

The following still holds true, as winter conditions still exist in the alpine zone:  
Overall the avalanche hazard is low in the Tuolumne Meadows area.  But, wilderness travelers need to be wary of pockets of dense wind slab. These slabs are overriding faceted weak snow that lie on top of a potentially smooth sliding surface of old snow and or crust.  These pockets are isolated and may be hard to trigger, but could be consequential to the unsuspecting skier.  Wilderness skiers should use caution when traversing any slopes steeper than 30 degrees on hard "drum like" hollow sounding snow.     

Wildlife: With this spring-like weather, we saw more birds out and about. Hairy woodpeckers, brown creepers, and red-breasted nuthatches were all pecking away at the tree snags.  Mountain chickadees and Clark's nutcrackers were also quite vocal.  But, the most noteworthy avian member of the week was a golden eagle that soared over Gaylor Peak as a few snowflakes were actually falling from the sky.  

Questions: The Tuolumne Meadows Ski Hut is open.  There is an ample supply of firewood and 10 bunks that are available on a first come, first served basis. You can call the Tuolumne Meadows Ranger Station at 209/372-8734.   If you leave a message we will get back to you the first chance we get.  Power and phones are frequently out of service. Contact the wilderness office at 209/372-0740 with any questions or concerns if you are unable to reach the ranger station. Come prepared; don't count on electricity or phone service at the ski hut.

Happy Skiing!
Laura and Rob Pilewski
Tuolumne Meadows Winter Rangers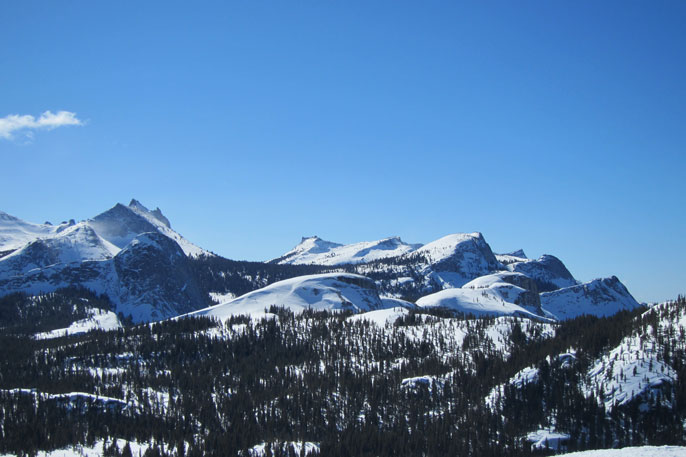 Post A Comment
Did You Know?
Riparian communities are adjacent to the river channel and tributaries; they are the interface between the river and surrounding meadow and upland communities. They provide specialized habitat and important nutrients to the meadow and river systems.