Rollercoaster Rivers
This week has been very warm in Yosemite. Yosemite Valley's average high temperature for March is 58°F but this week, we have seen highs nearly 15 degrees warmer. That extra heat has had an obvious effect on the waterfalls, many of which are flowing like it is spring. A keen observer can also notice changes in the flow of our streams and rivers. To help measure those observations, stream gages have been established at several locations in the park which monitor the quantity and quality of water flowing in our watersheds. At either end of Yosemite Valley, there is a gage on the Merced River: one at Happy Isles and another at Pohono Bridge. These stream gages are monitored by the US Geological Survey. Below is a graph of the discharge (amount of water passing the stream gage in cubic feet per second) at Pohono Bridge over the past week. You can see that the amount of water flowing in the river now is more than double the amount from just four days ago. This is also double the 96 year average for today! 
Another interesting thing to notice is the change in flow during a single day. As the snow melts, it takes time for the water to flow to Yosemite Valley. Due to that travel time, the peak flow here is usually late at night, between 11 pm and 3 am local time. In fact, the later the peak flow is here, the further the water has had to travel from the snow. So the time of the peak flow can provide a little insight to the condition of the snowpack. Sure enough, our most recent snow survey put the Merced watershed at only 68% of average snowpack and we are seeing very late peak flow times in the Valley (after 3 am). Without a comeback from winter that brings more snow, this can only mean a short spring runoff and a long dry summer ahead.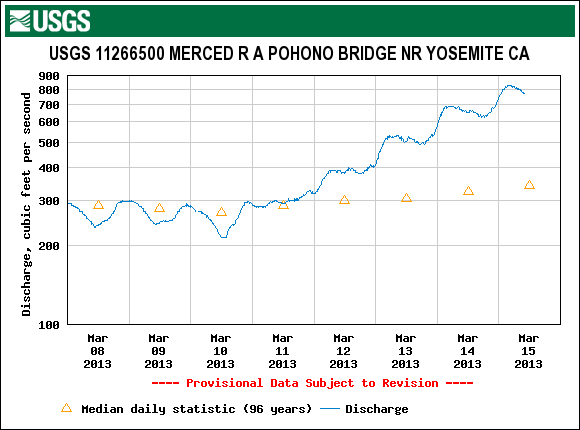 Yosemite Valley, BW, Water-Rock-Wind
Post A Comment
Did You Know?
In Yosemite Valley, dropping over 594-foot Nevada Fall and then 317-foot Vernal Fall, the Merced River creates what is known as the "Giant Staircase." Such exemplary stair-step river morphology is characterized by a large variability in river movement and flow, from quiet pools to the dramatic drops of the waterfalls themselves.