Yosemite is open, but some wilderness trails are closed due to the Meadow Fire

The Meadow Fire is burning southeast of Yosemite Valley. Some trails are closed and some areas of the park may be smoky at times. More »
Roadside Naturalist: Effects of the Mono Winds
Effects of the Mono Winds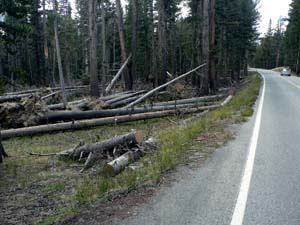 August 30, 2012
Tioga Road near Mono Pass Trailhead

Dramatic evidence of the regional phenomenon known as the Mono Winds can be seen just off the Tioga road near the Mono Pass Trailhead. Numerous trees are down in this area, having been blown down last winter. When a high pressure system is over the Great Basin, the clockwise movement of air pushes up and over the Sierra and picks up speed as it rushes down the western slopes. The rugged topography funnels some of that air, further increasing the speed and intensifying localized effects. The Mono Winds can easily reach 50 mph and in extreme cases exceed 100 mph. It is likely that the wind that knocked these trees down was funneled by the Tioga pass and continued down the Tioga road. Most of the downed trees are near the road and lying parallel with the road. The weather patterns that cause the Mono Winds occur from October to April but are most common in December and January. 
 
Post A Comment
Did You Know?
Yosemite and Huangshan are sister parks. Huangshan, which protects over 77 magnificent granite peaks 3,000 feet (1,000 m) or higher, is one of China's most famous and sacred scenic areas. Countless poems and writings dating back 2,200 years attest to its beauty. More...