Road Closures Due to El Portal Fire

The Big Oak Flat Road between Crane Flat and the El Portal Road is temporarily closed. There is no access to Yosemite Valley via the Big Oak Flat Road or Highway 120. Tioga Road is open and accessible via Big Oak Flat and Tioga Pass Entrances. More »
Campground Closures Due to Fire

Crane Flat, Bridalveil Creek, and Yosemite Creek Campgrounds are temporarily closed. More »
Yosemite National Park is Open

Yosemite Valley, Glacier Point, and Wawona/Mariposa Grove areas are open and accessible via Highways 140 and 41. Tioga Road is not accessible via Highways 140 and 41 due to a fire.
Roadside Naturalist: Effects of the Mono Winds
Effects of the Mono Winds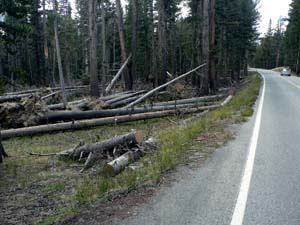 August 30, 2012
Tioga Road near Mono Pass Trailhead

Dramatic evidence of the regional phenomenon known as the Mono Winds can be seen just off the Tioga road near the Mono Pass Trailhead. Numerous trees are down in this area, having been blown down last winter. When a high pressure system is over the Great Basin, the clockwise movement of air pushes up and over the Sierra and picks up speed as it rushes down the western slopes. The rugged topography funnels some of that air, further increasing the speed and intensifying localized effects. The Mono Winds can easily reach 50 mph and in extreme cases exceed 100 mph. It is likely that the wind that knocked these trees down was funneled by the Tioga pass and continued down the Tioga road. Most of the downed trees are near the road and lying parallel with the road. The weather patterns that cause the Mono Winds occur from October to April but are most common in December and January. 
 
Post A Comment
Did You Know?
Starting in 1907, the Yosemite Valley Railroad brought passengers bound for Yosemite Valley up the Merced River canyon to El Portal. From there, they would take stagecoaches to the Valley. Some of the old train cars are now on display in El Portal.