Our inner 6-year old
 We were all young once.  You may not remember it well now, but we often possess an innocence and honesty in our youth that is uncommon as adults.  Such is the case of Evie, a young junior ranger, who recently returned a couple of sticks she took from the park saying in an adorable letter, "I know I'm not supposed to take things from the park…..Please put them back in nature."  Evie's sticks may seem small in comparison to the vast resources in Yosemite, but if the four million people that visit the park each year were all removing resources from the park, we can affect the balance of the natural processes that are in play on the land.  Those sticks may be food or shelter for small creatures and in time will return nutrients to the soil that new plants and animals will use.  Of course, if we are not supposed take things, we are not supposed leave anything either!  Trash and graffiti that visitors leave in the park is just as inappropriate as taking pine cones and other material out of the park.  Our unnatural additions are unnecessary in a place where the natural beauty is being preserved.  Our hope is that a Leave No Trace ethic will guide the actions of our visitors.  Although he was talking about the Grand Canyon when he said it, President Theodore Roosevelt had some great words of wisdom on the subject, "Leave it as it is.  The ages have been at work on it and man can only mar it."  I think this applies to all of our national parks, and I think Evie would agree.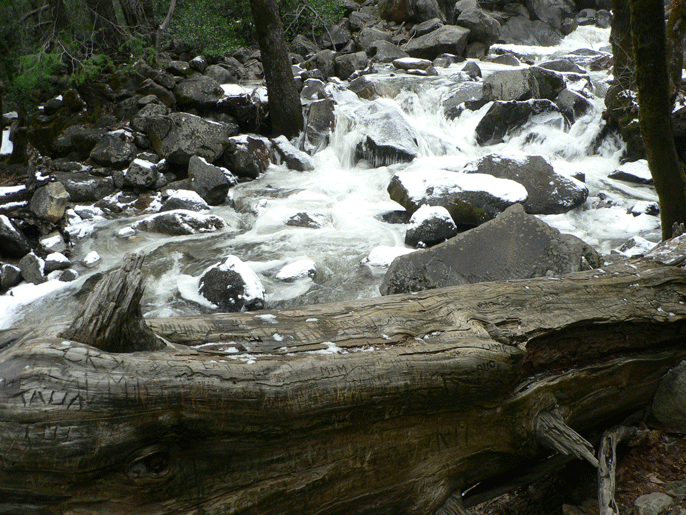 Carved graffiti on a log near Bridalveil Creek in Yosemite Valley.

Yosemite Valley, BW, Ranger Notebook
Post A Comment