Road Closures Due to El Portal Fire

The Big Oak Flat Road between Crane Flat and the El Portal Road is temporarily closed. There is no access to Yosemite Valley via the Big Oak Flat Road or Highway 120. Tioga Road is open and accessible via Big Oak Flat and Tioga Pass Entrances. More »
Campground Closures Due to Fire

Crane Flat, Bridalveil Creek, and Yosemite Creek Campgrounds are temporarily closed. More »
Yosemite National Park is Open

Yosemite Valley, Glacier Point, and Wawona/Mariposa Grove areas are open and accessible via Highways 140 and 41. Tioga Road is not accessible via Highways 140 and 41 due to a fire.
Mather Musings: What's Under Foot?
What's Under Foot?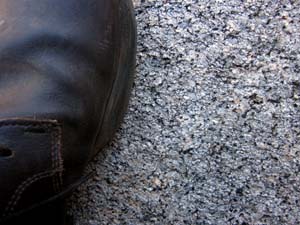 Many interesting geologic features may be found in the High Country of Yosemite. Glaciers have shaped and sculpted the granite and other rock types of this area in many different ways. There are five main minerals found in the granite of Yosemite. These are potassium feldspar, Plagioclase feldspar, quartz, biotite and hornblende. In general, quartz and both feldspars appear whitish to light grey, while hornblende and biotite appear much darker.  Can you find these different minerals in a piece of granite?  Sometimes larger crystals are formed in a piece of granite, depending on how quickly it cooled when being formed.  Slowly cooled minerals develop larger crystals, while more quickly cooled minerals form smaller sized crystals. Be aware….learning more about the rocks under our feet may lead to lots more questions.

Post A Comment
Did You Know?
In March 1987, the largest historical rockfall in Yosemite National Park deposited an estimated 1.5 million tons of debris at the base of Three Brothers, closing Northside Drive for several months.