Mather Musings: "Snow Knee" Tree
"Snow Knee" Tree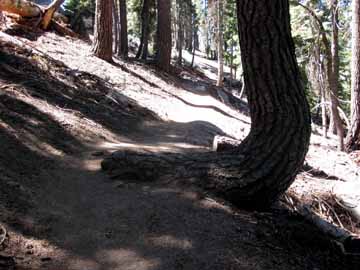 Trail to North Dome from Porcupine Creek

Lots of hikers along the North Dome trail today (July 15) were hot and thirsty during their ascent back up to the Tioga Road. The sloped area along the trail (photo) shows evidence that water (in the form of snow) is quite prevalent here throughout other times of the year. This tree has developed something called "snow knee" which starts forming when the tree is young and is bent over by snow and/or pushed at a angle by snow's pressure down the slope. Eventually this tree managed to grow upward towards the sun, but retained a signature of its struggle against the snow from its early days. Be sure to carry plenty of water and sun protection with you on your hike to North Dome as the latter part of the route has little shade and the hike back from North Dome is mostly uphill.

Post A Comment
Did You Know?

In 90 years of serving Yosemite National Park, the Conservancy has seen many accomplishments. From restoring the habitat of the great gray owl to funding the first museum in the Valley, Yosemite Conservancy has played a vital role in the preservation and protection of Yosemite. More...