Road Closures Due to El Portal Fire

The Big Oak Flat Road between Crane Flat and the El Portal Road is temporarily closed. There is no access to Yosemite Valley via the Big Oak Flat Road or Highway 120. Tioga Road is open and accessible via Big Oak Flat and Tioga Pass Entrances. More »
Campground Closures Due to Fire

Crane Flat, Bridalveil Creek, and Yosemite Creek Campgrounds are temporarily closed. More »
Yosemite National Park is Open

Yosemite Valley, Glacier Point, and Wawona/Mariposa Grove areas are open and accessible via Highways 140 and 41. Tioga Road is not accessible via Highways 140 and 41 due to a fire.
Mather Musings: "Snow Knee" Tree
"Snow Knee" Tree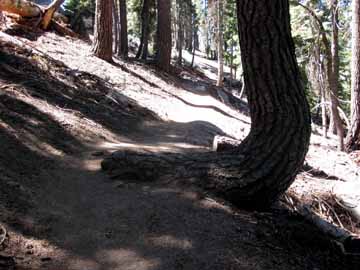 Trail to North Dome from Porcupine Creek

Lots of hikers along the North Dome trail today (July 15) were hot and thirsty during their ascent back up to the Tioga Road. The sloped area along the trail (photo) shows evidence that water (in the form of snow) is quite prevalent here throughout other times of the year. This tree has developed something called "snow knee" which starts forming when the tree is young and is bent over by snow and/or pushed at a angle by snow's pressure down the slope. Eventually this tree managed to grow upward towards the sun, but retained a signature of its struggle against the snow from its early days. Be sure to carry plenty of water and sun protection with you on your hike to North Dome as the latter part of the route has little shade and the hike back from North Dome is mostly uphill.

Post A Comment
Did You Know?
Yosemite and Huangshan are sister parks. Huangshan, which protects over 77 magnificent granite peaks 3,000 feet (1,000 m) or higher, is one of China's most famous and sacred scenic areas. Countless poems and writings dating back 2,200 years attest to its beauty. More...