Road Closures Due to El Portal Fire

The Big Oak Flat Road between Crane Flat and the El Portal Road is temporarily closed. There is no access to Yosemite Valley via the Big Oak Flat Road or Highway 120. Tioga Road is open and accessible via Big Oak Flat and Tioga Pass Entrances. More »
Campground Closures Due to Fire

Crane Flat, Bridalveil Creek, and Yosemite Creek Campgrounds are temporarily closed. More »
Yosemite National Park is Open

Yosemite Valley, Glacier Point, and Wawona/Mariposa Grove areas are open and accessible via Highways 140 and 41. Tioga Road is not accessible via Highways 140 and 41 due to a fire.
Mather Musings: Quaking Aspen
Quaking Aspen
Populus tremuloides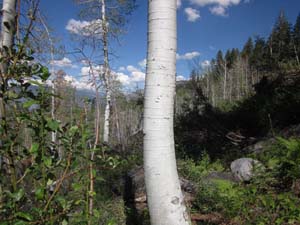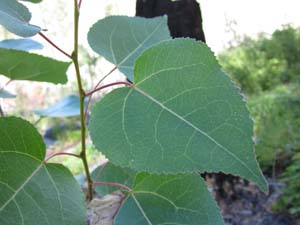 August

This deciduous tree has smooth whitish bark when young. As it ages it begins to have dark furrows in the trunk and can easily scar. Sometimes bears will mark their territory by leaving scratch marks on the trunk. The trunk is generally small and straight, measuring 60-80ft tall. In exposed locations the trunk may become bent or grow prostrate to the ground. The leaves are almost oval-shaped and have a flattened petiole which allows the leaf to flutter in the wind, thus the name quaking aspen. Stands of these trees are often all clones of one individual, connected by their roots!
 
Post A Comment
Did You Know?
In March 1987, the largest historical rockfall in Yosemite National Park deposited an estimated 1.5 million tons of debris at the base of Three Brothers, closing Northside Drive for several months.