Road Closures Due to El Portal Fire

The Big Oak Flat Road between Crane Flat and the El Portal Road is temporarily closed. There is no access to Yosemite Valley via the Big Oak Flat Road or Highway 120. Tioga Road is open and accessible via Big Oak Flat and Tioga Pass Entrances. More »
Campground Closures Due to Fire

Crane Flat, Bridalveil Creek, and Yosemite Creek Campgrounds are temporarily closed. More »
Yosemite National Park is Open

Yosemite Valley, Glacier Point, and Wawona/Mariposa Grove areas are open and accessible via Highways 140 and 41. Tioga Road is not accessible via Highways 140 and 41 due to a fire.
Mather Musings: Burls
Burls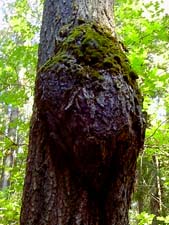 A burl is a rounded growth on the trunk or branch of a tree. This specialized deformity is a result of stress and abnormal growth in the grain of wood. Injury, virus and fungus can all cause burls. They are usually covered in bark and do not hurt the tree unless the weight of the tree causes breakage. Many trees have a burl underground and the burl remains undiscovered until the tree is uprooted.

Post A Comment
Did You Know?
Congress designated the Merced River as Wild and Scenic in 1987. The National Park Service manages 81 miles of the Merced River, encompassing both the main stem and the South Fork in Yosemite National Park and the El Portal Administrative Site. More...