Yosemite is open, but some wilderness trails are closed due to the Meadow Fire

The Meadow Fire is burning southeast of Yosemite Valley. Some trails are closed and some areas of the park may be smoky at times. More »
Horsetail Fall
Photographers flock to Yosemite year round, but there is a special reason they were here this week. There is a small, ephemeral water fall that puts on quite a show in mid- to late-February. Horsetail Fall, on the east shoulder of El Capitan, is a great example of the amazing natural phenomena that exist in Yosemite. A perfect combination of water, rock, and light, the fall glows bright orange at sunset when the conditions are right. Those conditions occur for only a small window when the angle of the sun is right, there is enough water in the fall, and we have clear skies at sunset. Some years the phenomenon only happens on one or two days! Unfortunately, climate change is likely to make this special sight even rarer. Warmer temperatures will reduce the amount of snow that is collected in the very small watershed that feeds Horsetail Fall. This means less water to light up the hearts and camera lenses of viewers here in Yosemite Valley.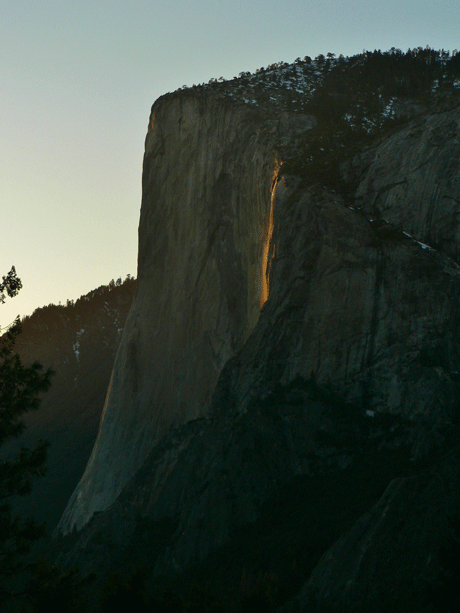 Horsetail Fall glows on a clear evening as the sun sets towards the end of February.

Post A Comment
Did You Know?
Adventure Risk Challenge (ARC) brings youth to Yosemite each summer for a dynamic literacy and leadership immersion program. ARC works with students, boosting academic and leadership skills through a variety of programs, including a 40-day experience in Yosemite full of adventure and learning. More...