Yellowstone Science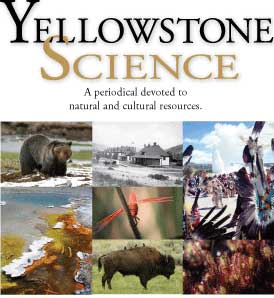 Yellowstone Science is a quarterly publication devoted to Yellowstone's natural and cultural resources. Yellowstone Science features articles about research done in the park, provides scientists with an opportunity to communicate and exchange ideas, and gives the public a look at this exciting work.
For more information contact the Yellowstone Center for Resources, P.O. Box 168, Yellowstone National Park, Wyoming 82190.
Printing costs are paid by grants and tax deductible donations to the Yellowstone Association, P.O. Box 117, Yellowstone National Park, Wyoming 82190. If you would like to help support Yellowstone Science, please make your check payable to the Yellowstone Association and write "Yellowstone Science" in the check memo line.
Did You Know?

Even though the animals of Yellowstone seem tame they are still wild. Feeding the animals is not permitted in any way, and all visitors must keep 100 yards away from wolves and bears, and 25 yards from other animals.