Spring Bicycling
May 10: The road from Canyon Junction north approximately 9 miles to the Chittenden Road junction is now open to bicycles. Travel is PROHIBITED between the Chittenden Road and Tower Junction due to road construction in progress. There will be construction related vehicles, including heavy equipment, traveling between Canyon Junction and the Chittenden Road. Public auto traffic begins May 24, weather permitting.
Canyon Junction is at an elevation of around 7900 ft, Dunraven Pass is at approximately 9000 ft elevation. Cyclists MUST BE PREPARED for much cooler conditions and precipitation including snow when riding this section of road.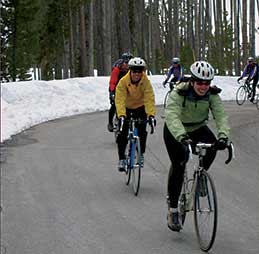 From late March or early April bicycling, walking, jogging, roller blades, roller skis and similar means of non-motorized public travel may be permitted between the West Entrance and Mammoth Hot Springs prior to these roads opening to motorized public travel.
Snow removal efforts may also allow for a brief period of bicycle access into the park from the East Entrance to the east end of Sylvan Pass (6 miles from the entrance) and the South Entrance (to West Thumb Jct) depending on road conditions for these early spring activities.
The first day of "spring bicycling" is never predetermined and is dependent on road conditions as determined by park staff. Motorized administrative travel by authorized employees and park contractors, including large construction-related vehicles, will occur during the spring bicycling period and rules of the road, including single file travel, remain in effect.
During the spring bicycling period public travel towards Old Faithful is PROHIBITED south of the Madison Junction restroom and picnic area, and from Norris Junction to Canyon. ONLY authorized administrative travel may occur on these sections of road.
Cyclists are REQUIRED to:
Ride single file to the right
If riding before sunrise and after sunset, you must use a forward-facing white light and a rear-facing red light. Travel at night is not recommended
Stay100 yards from bears & wolves: 25 yards from birds and all other wildlife
Cyclists SHOULD:
Wear a helmet and high visibility clothing
Carry bear spray and know how to use it.
Turn around if bison are on the road. DO NOT cause them to run.
Variable ALIGNMENT is undefined.
The following list may help you prepare for a safe outing:
Advanced preparation is essential. Travel self-contained as there are no facilities or services provided, i.e., be prepared to repair a flat tire or make repairs.
The road between Madison and Old Faithful is closed to bicycling until open to automobile travel, due to human safety and bear management concerns.
Wild animals have the right-of-way and can be dangerous and unpredictable. Do not approach, chase, molest or feed wildlife.
Minimize the dangers associated with a bear encounter. Bring bear spray.
Be prepared for rapid weather changes. Prevailing winds blow from the west making the ride toward Madison far easier and more comfortable than the return trip.
Park roads open for spring cycling are NOT maintained on a regular basis; you may encounter snow and ice on the roadway.
-----Please enjoy the park safely-----
The information on this page is also available in a one page flyer:
Bicycling in Spring
(355 KB pdf)


Did You Know?

There were no wolves in Yellowstone in 1994. The wolves that were reintroduced in 1995 and 1996 thrived and there are now over 300 of their descendents living in the Greater Yellowstone Area.