Craig Pass Closed for the Season; Mammoth to Norris Closed Sept. 14-30

The road linking West Thumb and Old Faithful is closed for the season—traffic should detour through West Thumb, Lake, and Canyon. The road from Mammoth to Norris is closed for two weeks—traffic should detour over Dunraven Pass. More »
Fall Ranger-Led Programs
Know one of the best ways to learn more about the Yellowstone?
Attend a ranger program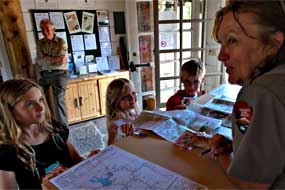 NPS/Elhard
Autumn ranger programs are now available for trip planning but please note that the programs listed here don't begin until after the Labor Day weekend:
Autumn Ranger-Led Programs
(270 KB PDF)
PDFs can only be viewed or printed using Adobe Acrobat Reader (available free, online).
We offer ranger-led programs in the summer, fall, and winter. Please look at our other season schedules to see what programs are available:
Did You Know?

Lake trout are an invasive species of fish that is decimating the native cutthroat trout population in Yellowstone Lake.