Old Faithful NPS Visitor Facilities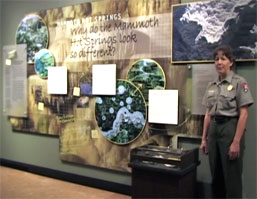 NPS PHOTO
The Old Faithful Visitor Education Center
The new Old Faithful Visitor Education Center features exhibits on hydrothermal features, life in extreme environments, volcanic geology, and scientific investigations of these phenomena.

Take a video tour of the center!

Evening ranger-led programs are presented during the summer and the winter seasons. The Yellowstone Association sales outlet here provides a large selection of their merchandise.
Visit the online Old Faithful Virtual Visitor Center.

Backcountry Office & Clinic
The combination ranger station, backcountry office, and clinic are located across the west parking lot from the visitor center. This facility also houses the office of the District Naturalist and the district library.
Did You Know?

Prior to the establishment of the National Park Service, the U.S. Army protected Yellowstone between 1886 and 1918. Fort Yellowstone was established at Mammoth Hot Springs for that purpose.