Old Faithful Area Natural Features, Page 2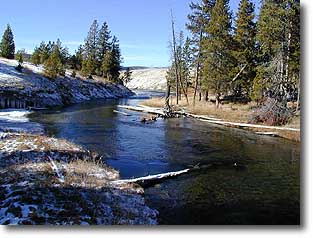 Firehole River
The river derives its name from the steam (which they thought was smoke from fires) witnessed by early trappers to the area. Their term for a mountain valley was "hole," and the designation was born. The Firehole River boasts a world-famous reputation for challenging fly-fishing. Brown, rainbow, and brook trout give the angler a wary target in this stream.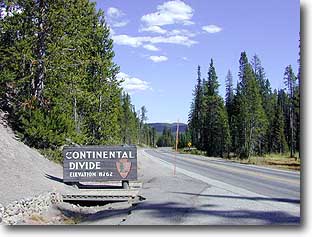 Craig Pass/Isa Lake
Both names are used to describe the same location seven miles south of Old Faithful on the Grand Loop Road. At 8,262 feet along the Continental Divide, Isa Lake is a uniquely confusing feature. During spring runoff, it drains into both the Atlantic and Pacific Oceans at the same time-and backwards, too! The west side of the lake flows into the Firehole drainage and, eventually, the Atlantic throughout the year. During the spring, the east side flows toward the Snake River drainage and the Pacific.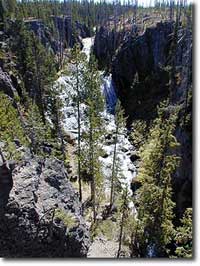 Waterfalls
Kepler Cascades is the most easily reached waterfall in the district. A marked pullout just south of Old Faithful and a short walk from the car offers the visitor easy access to view this 125-foot cascade.
Mystic Falls and Fairy Falls: Please see the Day Hiking Trails section for information on these features.