Norris Area Natural Highlights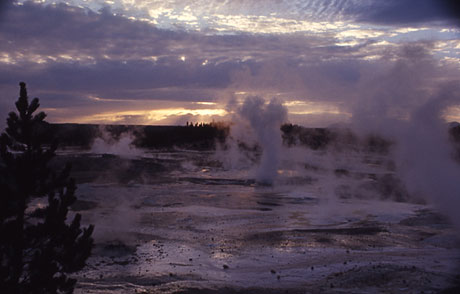 NPS photo
Norris Geyser Basin
Be sure to take our online tour of the basin.
Norris Geyser Basin is the hottest, oldest, and most dynamic of Yellowstone's thermal areas. The highest temperature yet recorded in any geothermal area in Yellowstone was measured in a scientific drill hole at Norris: 459°F (237°C) just 1,087 feet (326 meters) below the surface! There are very few thermal features at Norris under the boiling point (199°F at this elevation).
Norris shows evidence of having had thermal features for at least 115,000 years. The features in the basin change daily, with frequent disturbances from seismic activity and water fluctuations. The vast majority of the waters at Norris are acidic, including acid geysers which are very rare. Steamboat Geyser, the tallest geyser in the world (300 to 400 feet) and Echinus Geyser (pH 3.5 or so) are the most popular features.
The basin consists of three areas: Porcelain Basin, Back Basin, and One Hundred Springs Plain. Porcelain Basin is barren of trees and provides a sensory experience in sound, color, and smell; a 3/4 mile dirt and boardwalk trail accesses this area. Back Basin is more heavily wooded with features scattered throughout the area; a 1.5 mile trail of boardwalk and dirt encircles this part of the basin. One Hundred Springs Plain is an off-trail section of the Norris Geyser Basin that is very acidic, hollow, and dangerous. Travel is discouraged without the guidance of knowledgeable staff members. The area was named after Philetus W. Norris, the second superintendent of Yellowstone, who provided the first detailed information about the thermal features.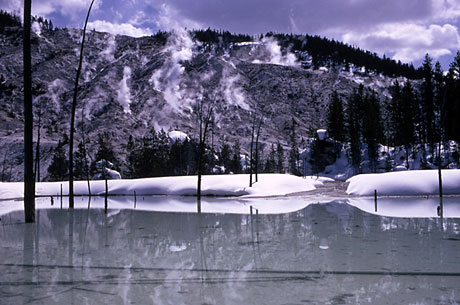 NPS photo
Roaring Mountain
Located just north of Norris on the Norris-Mammoth section of the Grand Loop Road, Roaring Mountain is a large, acidic thermal area (solfatara) that contains many steam vents (fumaroles). In the late 1800s and early 1900s, the number, size, and power of the fumaroles was much greater than today.

Gibbon River
The Gibbon River flows from Wolf Lake through the Norris area and meets the Firehole River at Madison Junction to form the Madison River. Both cold and hot springs are responsible for the majority of the Gibbon's flow. Brook trout, brown trout, grayling, and rainbow trout find the Gibbon to their liking. The Gibbon River is fly-fishing only below Gibbon Falls.

Virginia Cascades
A three-mile section of the old road takes visitors past 60-foot high Virginia Cascades. This cascading waterfall is formed by the very small (at that point) Gibbon River.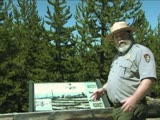 NPS photo
Norris-Canyon Blowdown
This is a 22-mile swath of lodgepole pine blown down by wind-shear action in 1984. It was then burned during the North Fork fire in 1988. This is the site where a famous news anchor said, "Tonight, this is all that's left of Yellowstone." A wayside exhibit there tells the story. See Inside Yellowstone - Along the Road Between Canyon & Norris for a short video.