Lake Area Natural Highlights, Page 1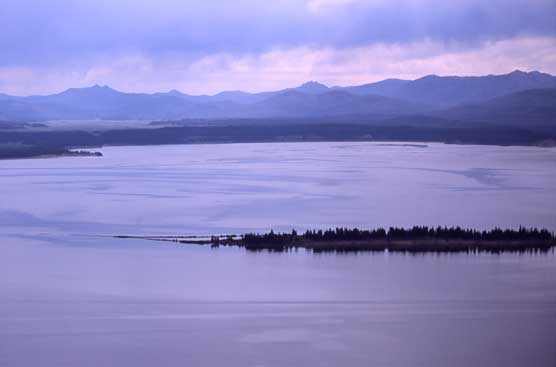 Yellowstone Lake
With a surface area of 132 square miles, Yellowstone Lake is the largest lake at high elevation (i.e., more than 7,000 ft.) in North America. It is a natural lake, situated at 7,733 ft. above sea level. It is roughly 20 miles long and 14 miles wide with 141 miles of shoreline. It is frozen nearly half the year. It freezes in late December or early January and thaws in late May or early June.
Recent research by Dr. Val Klump of the Center for Great Lakes Research and the University of Wisconsin has revolutionized the way we look at Yellowstone Lake. Figuratively, if one could pour all the water out of Yellowstone Lake, what would be found on the bottom is similar to what is found on land in Yellowstone; geysers, hot springs, and deep canyons. With a small submersible robot, the researchers found a canyon just east of Stevenson Island which was 390 ft. deep. Prior to this finding, the deepest spot in the lake was thought to be 320 ft., at West Thumb.
Underwater geysers, hot springs, and fumaroles were found at West Thumb and Mary and Sedge Bays. The hottest spot in the lake was found at Mary Bay where the temperature was recorded at 252° F (122° C). Hollow pipes, or chimneys of silica, several feet in height, were found rising up from the lake bottom at Mary Bay. It is thought that these are the old plumbing systems of now dormant geysers. Rock spires up to 20-feet tall were found underwater near Bridge Bay. Samples of this rock are being analyzed, though it is believed that these features are probably related to underwater thermal activity.
This group of researchers also found that the conditions in Yellowstone Lake are similar to those that occur near the famous hydrothermal vents on the Pacific Ocean's mid-ocean ridge. Nutrient- and mineral-rich submarine fountains support incredible plant and animal communities, including bacterial mats, sponges, and earthworms.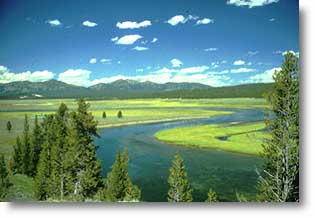 Hayden and Pelican Valleys
The Hayden Valley is located six miles north of Fishing Bridge Junction. The Pelican Valley is situated three miles east of Fishing Bridge. These two vast valleys comprise some of the best habitat in the lower 48 states for grizzly bears, bison, elk, and other wildlife species.
Natural Bridge
Located just south of Bridge Bay Campground, it is an easy one-mile walk to the Natural Bridge. There is also a bicycle trail leading to the bridge. The Natural Bridge was formed by erosion of this rhyolite outcrop by Bridge Creek. The top of the bridge is approximately 51 ft. above the creek. A short switchback trail leads to the top, though travel across the bridge is now prohibited to protect this feature.