Grant Area Natural Highlights, Page 1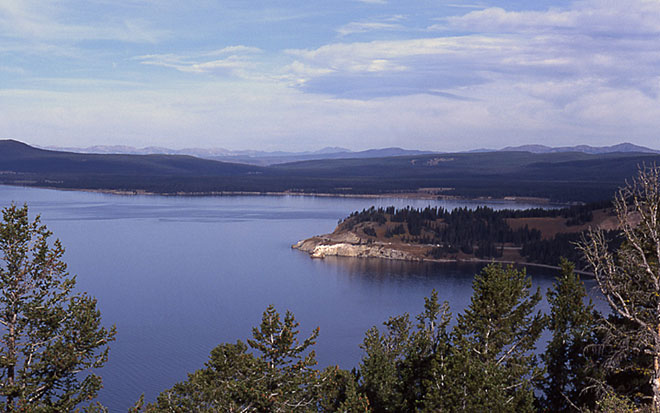 NPS/Peaco
Yellowstone Lake
The park's largest lake is Yellowstone Lake. This "matchless mountain lake" was probably seen by John Colter on his famous winter trip of discovery in 1807-1808. Before that, Native Americans surely camped on its shores every summer. Although it is unlikely that Native Americans lived here, many arrowheads, spearheads, and other artifacts have been found near the lake.
William Clark's map of 1806-1811 showed what was probably Yellowstone Lake as "Eustis Lake," the name of the Secretary of War under President Jefferson. An 1814 map maker changed Clark's "Lake Biddle" (probably Jackson Lake) to "Lake Riddle," and it may at times also have referred to Yellowstone Lake. The name "Bridger Lake" (now applied to a small lake southeast of the park) may also have applied at times to Yellowstone Lake. In 1826, a party of fur trappers that included Daniel Potts, Bill Sublette, and Jedidiah Smith called Yellowstone Lake "Sublette Lake," and some historians credit Sublette with discovering the lake. Daniel Potts, one of the chroniclers of that 1826 trip, wrote to his family on July 8, 1827, and said that near the headwaters of the Yellowstone River is "a large fresh water lake...on the very top of the mountain which is about one hundred by forty miles in diameter and as clear as crystal" (letter, Yellowstone Park Research Library). Trapper Warren Ferris knew the name "Yellow Stone Lake" by 1831, and he showed it on his map of 1836. By the 1860s, Yellowstone Lake was well-known among former fur trappers, army personnel, and other frequent western explorers.
The 1871 Hayden Survey was the first to sail a boat, the Anna, on the waters of Yellowstone Lake, although some fur trappers or Indians may have floated rafts on the lake much earlier. Other early boats used to explore the lake were the Topping in 1874 (see Topping Point), a raft containing government surveyors in 1874, the Explorer in 1880 (see Explorer's Creek), a USGS boat destroyed by lightning in 1885, the Zillah in 1889, and the E.C. Waters (test runs only) in 1905. A boat piloted by Billy Hofer and William D. Pickett made at least one trip on the lake in 1880.
Yellowstone Lake covers 132 square miles and is 20 miles long by 14 miles wide. It has 141 miles of shoreline. The lake is at least 320 feet deep in the West Thumb area and has an average depth of 140 feet. Situated at an elevation of 7,733 feet, the lake remains cold the year-round, with an average temperature of 41°F.
Yellowstone Lake is the largest natural freshwater lake in the United States that is above 7,000 feet and is one of the largest such lakes in the world. Because of its size and depth and the area's prevailing winds, the lake can sometimes be whipped into a tempestuous inland ocean. During late summer, Yellowstone Lake becomes thermally stratified with each of several water layers having a different temperature. The topmost layer rarely exceeds 66°F, and the lower layers are much colder. Because of the extremely cold water, swimming is not recommended. Survival time is estimated to be only 20 to 30 minutes in water of this temperature.

NPS photo
The lake has the largest population of wild cutthroat trout in North America. Just how these Pacific Ocean cutthroat got trapped in a lake that drains to the Atlantic Ocean puzzled experts for years. There is now a theory that Yellowstone Lake once drained to the Pacific Ocean (via Outlet Canyon to Snake River) and that fish could pass across the Continental Divide at Two Ocean Pass. Lake trout, an illegally introduced, exotic species, is now found in Yellowstone Lake and threatens the existence of the native cutthroat trout.
Yellowstone Lake freezes over completely in winter, with ice thickness varying from a few inches to more than two feet. The lake's basin has an estimated capacity of 12,095,264 acre-feet of water. Because its annual outflow is about 1,100,000 acre-feet, the lake's water is completely replaced only about every eight to ten years. Since 1952, the annual water level fluctuation has been less than six feet.