Madison Area Natural Highlights, Page 2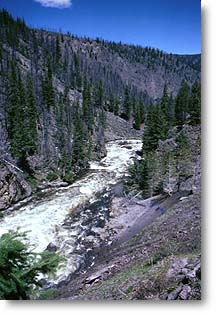 Firehole River
The Firehole River starts south of Old Faithful, runs through the thermal areas northward to join the Gibbon and form the Madison River. The Firehole is world famous among anglers for its pristine beauty and healthy brown, brook, and rainbow trout.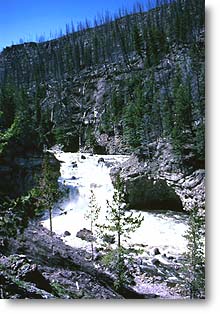 Firehole Canyon Drive and Firehole Falls
Firehole Canyon Drive, a side road, follows the Firehole River upstream from Madison Junction to just above Firehole Falls. The drive takes sightseers past 800-foot thick lava flows. Firehole Falls is a 40-foot waterfall. An unstaffed swimming area here is very popular in the warmest of the summer season. Cliff diving is illegal.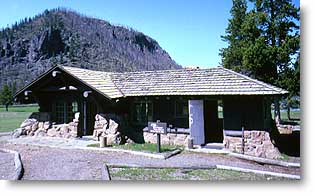 National Park Mountain
The mountain is actually part of the lava flows that encircle the Madison Junction area. Near this site, in 1870, the Washburn-Langford-Doane Expedition is said to have camped and discussed the future of the region they were exploring. Legend has it that this was where the idea of the national park was discussed. It should be noted that there is no evidence of the campfire conversation ever taking place, and there is certainly no evidence to show that the idea of a national park was discussed.
Page 1 > Page 2