Craig Pass Closed for the Season; Mammoth to Norris Closed Sept. 14-30

The road linking West Thumb and Old Faithful is closed for the season—traffic should detour through West Thumb, Lake, and Canyon. The road from Mammoth to Norris is closed for two weeks—traffic should detour over Dunraven Pass. More »
Reservations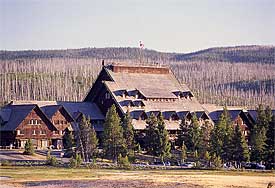 NPS/Peaco
Inside the park,
Xanterra Parks & Resorts
operates:
9 lodges (2,000+ rooms)
5 reservation campgrounds (1,700+ sites) including Bridge Bay, Canyon, Fishing Bridge RV Park, Grant Village, and Madison

(The National Park Service manages seven additional campgrounds that are first-come, first-served.)
For lodging or camping reservations:
Write: Yellowstone National Park Lodges, PO Box 165, Yellowstone National Park, WY 82190.

Call:


307-344-7311 or 1-866-GEYSERLAND (439-7375) for future reservations
307-344-7901 for same-day reservations

307-344-5395 for TDD service (Telecommunications Device for the Deaf)
Additional Information:


Did You Know?

You cannot fish from Fishing Bridge. Until 1973 this was a very popular fishing location since the bridge crossed the Yellowstone River above a cutthroat trout spawning area. It is now a popular place to observe fish.