Lake Area Natural Highlights, Page 3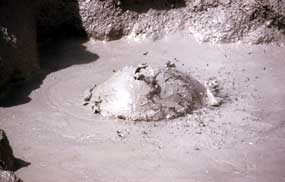 Mud Volcano/Sulphur Caldron
When the Washburn Expedition explored the area in 1870, Nathaniel Langford described Mud Volcano as "greatest marvel we have yet met with." Although the Mud Volcano can no longer be heard from a mile away nor does it throw mud from its massive crater, the area is still eerily intriguing.
The short loop from the parking lot past the Dragon's Mouth and the Mud Volcano is handicapped accessible. The half-mile upper loop trail via Sour Lake and the Black Dragon's Caldron is relatively steep. Two of the most popular features in the Mud Volcano front country are the Dragon's Mouth and the Black Dragon's Caldron. The rhythmic belching of steam and the flashing tongue of water give the Dragon's Mouth Spring its name, though its activity has decreased notably since December 1994. The Black Dragon's Caldron exploded onto the landscape in 1948, blowing trees out by their roots and covering the surrounding forest with mud. The large roil in one end of the Caldron gives one the sense that the Black Dragon itself might rear its head at any time.
In January 1995, a new feature on the south bank of Mud Geyser became extremely active. It covers an area of 20 by 8 feet and is comprised of fumaroles, small pools, and frying-pan type features. Much of the hillside to the south and southwest of Mud Geyser is steaming and hissing with a few mudpots intermixed. This increase in activity precipitated a great deal of visitor interest and subsequent illegal entry into the area.
The most dramatic features of the Mud Volcano area however, are not open to the public. The huge seething mud pot known as the "Gumper" is located off-boardwalk behind Sour Lake. The more recent features just south of the Gumper are some of the hottest and most active in the area. Ranger-guided walks are offered to provide visitors an opportunity to view this interesting place.
Farther in the backcountry behind Mud Volcano, several features are being tested for the existence of thermophilic microbes, which may offer insights into origin of life theories as well as having medical/environmental applications.
The Sulphur Caldron area can be viewed from a staging area just north of Mud Volcano. The Sulphur Caldron is among the most acidic springs in the park with a pH of 1.3. Its yellow, turbulent splashing waters bring to mind images of Shakespeare's soothsayers. Other features which can be viewed from this overlook are Turbulent Pool (which is no longer "turbulent") and the crater of a large, active mudpot.
For more specific information on the features of the Mud Volcano/Sulphur Caldron area, consult the annual reports that are available in the Ranger Naturalist Office adjacent to the Fishing Bridge Visitor Center.