Lake Area Historic Highlights, Page 2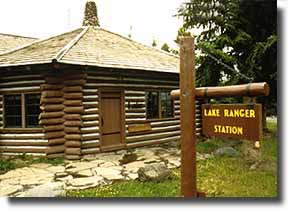 The Lake Ranger Station
After a decade of military administration in Yellowstone, Congress created the National Park Service in 1916. Ranger stations began to replace soldier stations throughout the park. The Lake Ranger Station was completed in 1923. The first Director of the National Park Service, Steven Mather, suggested that the station should blend in with its natural and cultural environment. A local woodsman used pioneer building techniques to give the station its "trapper cabin" style. With park architects, Superintendent Horace Albright designed a large octagonal "community room" with a central stone fireplace. This rustic hall served an informational function by day, and, in the evening, it became the scene of a folksy gathering around a log fire.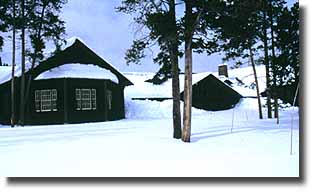 The advent of the auto in the park in 1915 created a great influx of visitors. The need arose for an intermediate style of lodging between the luxury of the Lake Hotel and the rustic accommodations of the tent camps. In 1926, the Lake Lodge (also a Robert Reamer design) was completed, one of four lodges in the park. The park was no longer primarily accessible to only affluent "dudes" or hearty "sagebrushers." Democracy had come to Yellowstone.
The lodge is currently operated by Xanterra Parks & Resorts. Information regarding reservation procedures is available through their website.
Archeological Research
For compliance purposes associated with the reconstruction of the East Entrance Road, recent archeological research has been conducted by the Mid-West Archeological Center of the National Park Service. Preliminary studies indicate that indigenous people inhabited the Lake area 9,600 years before present. Numerous projectile points have been found in addition to a hearth (cooking) structure, middens, and a bison harvest site.
Page 1 > Page 2