Craig Pass Closed for the Season; Mammoth to Norris, Expect 30-minute Delays

The road linking West Thumb and Old Faithful is closed for the season—traffic should detour through West Thumb, Lake, and Canyon. More »
Attention Anglers: Know Your Fish, If it has a Slash, Put it Back!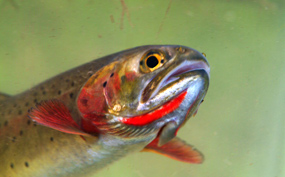 Photo by Zac Sexton
The fishing map within the Fishing Regulations indicates known locations of fish species within the boundaries of Yellowstone National Park. This handbook includes descriptions and identification tips for both native and nonnative sportfish. In Yellowstone, anglers are required to return all native fish back to the water immediately.
The native fish which MUST BE RELEASED UNHARMED include:
Arctic grayling
cutthroat trout
mountain whitefish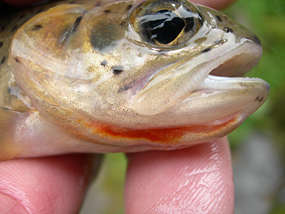 NPS Photo/Todd Koel
Harvest of nonnative trout is allowed, and in some cases required, in many park waters. Please check the Fishing Regulations for details. It is the angler's responsibility to be able to distinguish one fish species from another, to ensure that cutthroat trout and other native species are not harmed!
Fish Identification Tools
Fish Images and Distribution Maps
Poster Downloads
Video - Yellowstone In-Depth: What's On Your Line?

Geologic features such as waterfalls, mountian ranges, and a continental divide provide incredible scenery for visitors toYellowstone, but from the perspective of a trout, they form natural barriers to movement. Because Yellowstone lies at the headwaters of rivers flowing to both the Atlantic and Pacific oceans, there are specific watersheds where some species are naturally meant to exist, while others are not. Use the species distribution maps below to help understand which watersheds within Yellowstone each species can be found.
Did You Know?

Prior to the establishment of the National Park Service, the U.S. Army protected Yellowstone between 1886 and 1918. Fort Yellowstone was established at Mammoth Hot Springs for that purpose.