Construction Work To Result In Yellowstone Road Closures After Labor Day

Two sections of Yellowstone's Grand Loop Road will be closed due to construction after the Labor Day holiday weekend. Travel between some points will involve long detours and significantly longer than normal travel times. More »
Operating Hours & Seasons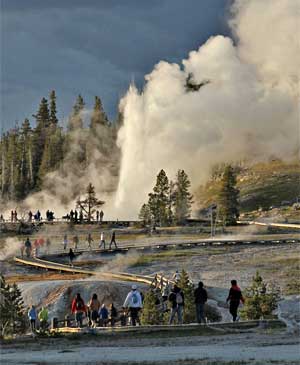 NPS
Yellowstone National Park roads between the North and Northeast entrances are open to auto travel every day, year-round. They provide access to Mammoth Hot Springs, the park's wildlife-rich northern range, and recreational activities such as cross-country skiing, hiking, camping, and fishing in season. The other park entrances and roads have seasonal closures and travel restrictions. Please see our Park Roads page for proposed spring opening dates and more information. Then use the links below to plan your visit.

What Season is Best?
Choosing which season to visit Yellowstone depends on what you are looking for. Winter, spring, summer, and fall have their own character and advantages. Plan your visit in advance and make sure to consider how Things to Do and Places to Go vary depending on the time of year.



Did You Know?

Yellowstone contains approximately one-half of the world's hydrothermal features. There are over 10,000 hydrothermal features, including over 300 geysers, in the park.