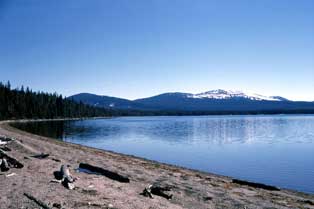 Cutthroat Trout Spawning Streams
Big Thumb Creek and Little Thumb Creek along with several other intermittent streams serve as cutthroat trout spawning streams, thus as major feeding areas for both grizzly and black bears during spawning season.

Heart Lake
Lying in the Snake River watershed west of Lewis Lake and south of Yellowstone Lake, Heart Lake was named sometime before 1871 for Hart Hunney, an early hunter. The name does not refer to the heart-like shape of the lake. During the 1890s, historian Hiram Chittenden learned from Richard "Beaver Dick" Leigh, one of Hunney's cronies, about the naming of the lake. Evidently, Capt. John W. Barlow, who explored Yellowstone in 1871, made the incorrect connection between the lake's name and its shape. Chittenden wrote to Barlow, who could recall nothing about the naming, but Leigh "was so positive and gave so much detail" that Chittenden concluded that he was right. Chittenden petitioned Arnold Hague of the USGS to change the spelling back to "Hart Lake," but Hague refused, convinced the shape of the lake determined the name.
As for Hart Hunney, Leigh said that Hunney operated in the vicinity of Heart Lake between 1840 and 1850 and died in a fight with Crow Indians in 1852. Chittenden thought it was possible that Hunney was one of Capt. Benjamin Bonneville's men.
Page 1 > Page 2 > Page 3 > Page 4 > Page 5 > Page 6 > Page 7