Craig Pass Closed for the Season; Mammoth to Norris, Expect 30-minute Delays

The road linking West Thumb and Old Faithful is closed for the season—traffic should detour through West Thumb, Lake, and Canyon. More »
Grant Area Natural Highlights, Page 4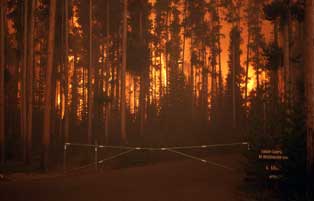 Lodgepole Pine Forests & Fire
This area is in a lodgepole pine forest, and the fires of 1988 greatly affected this part of the park. Several trails including the Lake Overlook Trail, Duck Lake Trail, and Riddle Lake Trail provide excellent opportunities to examine the various stages of lodgepole pine forest succession and development as well as fire ecology.
On July 12, 1988, a small fire started near the Falls River in the southeastern corner of the park. For several weeks, the fire grew slowly as crews attempted to contain it. On August 20, the winds picked up. This day would later become known as "Black Saturday" because more acres burned on this day alone than in the entire history of Yellowstone prior to this day. During that week, high winds drove the fire for miles until it approached the Lewis River. Defying all conventional understanding of fire behavior and driven by 60 mph winds that gusted to 80 mph, the fire blew all the way across the Lewis River Canyon on August 23.
Firefighters were astounded. Even the most experienced Incident Commanders had never seen fire burn like it did in 1988. While the fires shocked the nation and the world, scientists had long known that a fire of this magnitude would burn through a lodgepole pine forest like Yellowstone's on an average of once every 300 years. In fact, lodgepole pine forests are adapted to fire. Some of the pine cones need the intense heat of fire to open the cones and drop the seeds for the next generation of forests. While fire is often difficult for people to understand, for the lodgepole pine forests it is as important and necessary as other natural processes like rain and sunshine, death and rebirth.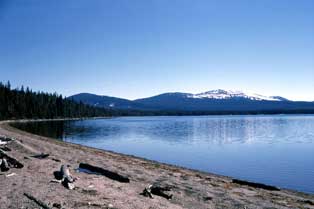 Cutthroat Trout Spawning Streams
Big Thumb Creek and Little Thumb Creek along with several other intermittent streams serve as cutthroat trout spawning streams, thus as major feeding areas for both grizzly and black bears during spawning season.

Heart Lake
Lying in the Snake River watershed west of Lewis Lake and south of Yellowstone Lake, Heart Lake was named sometime before 1871 for Hart Hunney, an early hunter. The name does not refer to the heart-like shape of the lake. During the 1890s, historian Hiram Chittenden learned from Richard "Beaver Dick" Leigh, one of Hunney's cronies, about the naming of the lake. Evidently, Capt. John W. Barlow, who explored Yellowstone in 1871, made the incorrect connection between the lake's name and its shape. Chittenden wrote to Barlow, who could recall nothing about the naming, but Leigh "was so positive and gave so much detail" that Chittenden concluded that he was right. Chittenden petitioned Arnold Hague of the USGS to change the spelling back to "Hart Lake," but Hague refused, convinced the shape of the lake determined the name.
As for Hart Hunney, Leigh said that Hunney operated in the vicinity of Heart Lake between 1840 and 1850 and died in a fight with Crow Indians in 1852. Chittenden thought it was possible that Hunney was one of Capt. Benjamin Bonneville's men.
Page 1 > Page 2 > Page 3 > Page 4 > Page 5 > Page 6 > Page 7
Did You Know?

There are more people hurt by bison than by bears each year in Yellowstone. Park regulations state that visitors must stay at least 25 yards away from bison or elk and 100 yards away from bears.