Fishing Season Dates and Regulations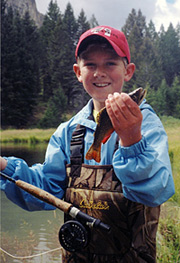 The fishing season begins the Saturday of Memorial Day weekend (usually the last weekend in May) and extends through and includes the first Sunday in November. Exceptions are noted in each of the Regional Regulations sections within the Fishing Regulations handbook (4 MB pdf).
Please take the time to review the regulations as there are recent changes.
Also note that there are areas within the park that are permanently closed to human entry and disturbance, have seasonal area and trail closures, off-trail travel and daylight hour limitations, and party size recommendations. See the Bear Management Area restrictions within the Yellowstone Backcountry Trip Planner for specific rules and information.
In addition, some streams may be temporarily closed to fishing on short notice to protect fish populations in mid-summer due to low water levels and high water temperatures.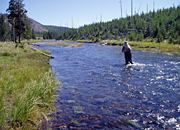 Photo courtesy of Ken Calkin.
Recent Regulation Changes and Barbless Hook Requirement
To reduce competition, predation, and hybridization stress on native fishes, Yellowstone has increased harvest limits of rainbow and brown trout in waters where they co-exist with cutthroat trout and fluvial arctic grayling. Two areas with differing regulations now exist: the Native Trout Conservation Area and the Wild Trout Enhancement Area. A map of these areas and list of the regulation changes are found within the handbook, which can be downloaded below. In addition, Yellowstone has adopted a barbless hook rule, to reduce handling time and injury, and improve the overall condition and appearance of fishes, especially in heavily fished waters.