Fall Bicycling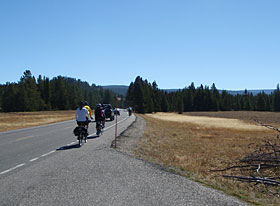 Photo courtesy West Yellowstone Chamber of Commerce
In November, after most of the roads have closed to wheeled vehicles (the road between the North Entrance at Gardiner, Montana, to the Northeast Entrance at Silver Gate and Cooke City, Montana remains open year-round) and while the roads are being prepared for winter use, a brief period of day-use bicycling, walking, jogging, roller blades, roller skis, and similar means of non-motorized travel are permitted, as conditions allow, on the following sections of the Grand Loop Road:


Mammoth Hot Springs to West Yellowstone
Snake River Entrance Station to West Thumb Junction
East Entrance to the east end of Sylvan Pass (6 mile corner)
Tower Junction to the Chittenden Road as conditions allow.
Madison Junction to Old Faithful
Cycling in Yellowstone during this time of year is not for the faint of heart:
The weather is unpredictable, and severe winter conditions can be encountered at any time.
There are no services open in the interior of the park and riders should be prepared to take care of all their own needs. Bring food, water, extra clothing, and a bicycle repair kit.
Water is available ONLY at Madison picnic area and Mammoth.
There is very limited cell phone coverage; pay phones are available at Canyon, Madison, Mammoth, Norris, and Old Faithful.
The cleared section of the road may be narrow and covered with a layer of snow and ice, and pullouts may remain filled with snow.
Cyclists should expect to encounter vehicles operated by park employees or construction workers traveling in conjunction with park operations.
Cyclists are asked to:
Ride single file to the right.
Wear a helmet and high visibility clothing.
If riding before sunrise and after sunset, you must use a forward-facing white light and a rear-facing red light. Travel at night is not recommended.
If bison are on the road, do not cause them to run; consider turning around.
Stay 25 yards from all wildlife; 100 yards from bears & wolves.
Carry bear spray and know how to use it.
An entrance fee is charged at the North Entrance. The road from the North Entrance at Gardiner, Montana, to Cooke City, Montana, at the park's Northeast Entrance, is open all year to cyclists and automobiles, weather permitting. The only campground open this time of year is at Mammoth Hot Springs.
Did You Know?

You cannot fish from Fishing Bridge. Until 1973 this was a very popular fishing location since the bridge crossed the Yellowstone River above a cutthroat trout spawning area. It is now a popular place to observe fish.