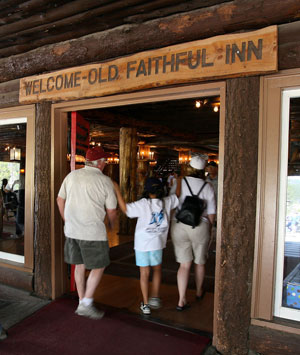 We know that everyone needs to eat and sleep!
Yellowstone provides lots of options:
9 lodges (2,000+ rooms)
12 front-country campgrounds (1,700+ sites)
numerous restaurants ranging from fine dining to snack shops and cafeterias
For lodging or camping reservations:
Write: Yellowstone National Park Lodges, PO Box 165, Yellowstone National Park, WY 82190.
Call:

307-344-7311 or 1-866-GEYSERLAND (439-7375) for future reservations
307-344-7901 for same-day reservations
307-344-5395 for TDD service (Telecommunications Device for the Deaf)
Additional Information:

Be sure to check for opening and closing dates for facilities inside the park.
Please make your reservations early.
For information on lodging or camping outside the park, visit Nearby Cities.
You can also take advantage of
other services
offered in the park like gas stations, post offices, medical facilities, and more. Let us help you design a visit that meets the comfort level you desire!