Welcome to the Yellowstone sound library, where you can immerse yourself in the aural landscape of America's first national park. The files available here were recorded in the park and are in the public domain. They may be downloaded and used without limitation; however, please credit the "National Park Service " where appropriate
.

Looking for video clips? Check out our video library.
Interested in our sound monitoring program?
Check out Voices of Yellowstone from our InDepth video series.

Index of Sounds
A
B
Bald Eagle
Bear - Grizzly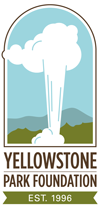 Yellowstone's Sound Library is supported, in part, by the Yellowstone Park Foundation, and by a generous grant through the Eyes on Yellowstone program.
Eyes on Yellowstone is made possible by Canon U.S.A., Inc.
This program represents the largest corporate donation for wildlife conservation in the park.

The Sound Library is also supported by the Acoustic Atlas through a collaborative project with the Montana State University Library, which collects and curates field recordings of natural sounds in the Greater Yellowstone Ecosystem.