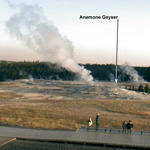 Old Faithful Webcam Photos

Photos of other geysers caught erupting on the Old Faithful Webcam.
Geysers

2 Photos

Yellowstone National Park has approximately half of the world's geysers—and most of them, including Old Faithful, are located at the Upper Geyser Basin.

Employees

4 Photos

Rangers perform duties in education, resource management, law enforcement, emergency medical services, and backcountry operations. Other park employees perform duties in research, maintenance, management, administration, trail maintenance, fire management, and fee collection.
Other Public Domain Photo and Multimedia Databases