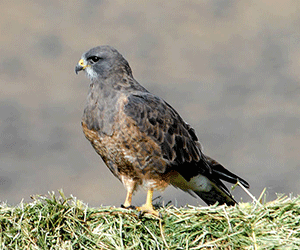 NPS
The Yellowstone Raptor Initiative (YRI), is a five-year research-based program started in 2011. The initiative conducts inventories and monitoring of select raptor species to provide baseline information on breeding, abundance, and seasonal movements.Yellowstone is home to twelve species of diurnal and seven nocturnal birds of prey that use the landscape, waterways, and airspace diversity found in the park for breeding, feeding, and roosting. An additional 14 species of raptor have used or currently use the Yellowstone landscape during migrations and seasonal movements.
The YRI complements the Yellowstone National Park Bird Program which has monitored Peregrine Falcons, Bald Eagles, and Ospreys since the 1980s as part of its core program. However, little is known regarding Yellowstone's remaining raptor species. The initial goals of the Yellowstone Raptor Initiative focused on breeding and non-breeding raptor monitoring in Yellowstone. Increased monitoring of diurnal raptors began in 2010 via a nominal, competitive grant from the University of Wyoming Park Cooperative. The initial pilot year field effort was incredibly successful (see the 2010 Annual Report for results of this pilot study), and led to the conception of a five-year project funded in annual increments by the Yellowstone Park Foundation. The YRI is expanding the field effort to other diurnal raptors particularly Red-tailed Hawks (ostensibly Yellowstone's most common breeding raptor), Golden Eagles, and Swainson's Hawks. While the initial focus for 2011 and 2012 was on diurnal raptors, YRI plans to develop an program to inventory owls as well. In addition to the abovementioned species, YRI will implement ecosystem-based surveys using standardized techniques to better evaluate the contribution of the breeding season raptor community to top down and bottom up trophic systems.
Our current efforts include:
Provide additional support to the core bird program for monitoring known Peregrine Falcon, Bald Eagle, and Osprey territories in addition to surveying suitable habitat for new territories;
Develop baseline data, and methods to estimate the size of breeding populations of selected raptors (Golden Eagle, Red-tailed Hawk, American Kestrel, Swainson's Hawk, and Prairie Falcon);
Locate nests and document productivity of Golden Eagles, Red-tailed Hawks, Swainson's Hawks, American Kestrels, and Prairie Falcons;
Access nest sites to collect biological materials (prey remains, eggshell fragments, bolus, and feathers) for information on diet and chemical contamination;
Engage Yellowstone visitors and staff in the identification of raptors and in recognizing their important role on the landscape through volunteer and intern opportunities, interpretive programs, park newsletters and displays, and other forms of personal contact;
Develop a park-wide sighting record and concurrent database to record all reported observations by staff and visitors (submit your raptor sightings);
Document the autumn raptor migration in Hayden Valley;
Collaborate with other raptor researchers in the region to better understand the ecological role of raptors in Yellowstone as well as in the larger Greater Yellowstone Ecosystem;
Contribute the results of research efforts to the scientific community and general public through peer-reviewed papers, popular articles, lectures, and interpretive programs.

Because the YRI relies on citizen science to acquire valuable data on raptors in the park, raptor observation forms are available at all visitor centers and ranger stations for employee and visitor sightings. Handbooks of raptor photos and identification tips are available at all visitor centers and ranger stations.