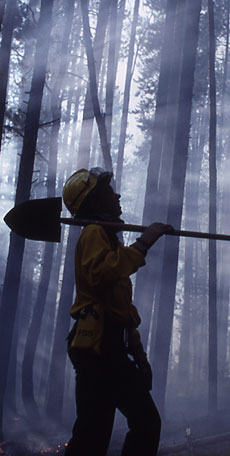 NPS photo
The Fires of 1988
No one anticipated that 1988 would be radically different. In April and May, Yellowstone received higher-than normal rainfall. But by June, the greater Yellowstone area was experiencing a severe drought. Forest fuels grew progressively drier, and the early summer thunderstorms produced lightning without rain. The fire season began, but still without hint of the record season to come. Eleven of 20 early-season fires went out by themselves, and the rest were being monitored in accordance with the existing fire management plan.
The summer of 1988 turned out to be the driest in the park's recorded history. By July 15, only 8,500 acres had burned in the entire greater Yellowstone area. Still, due to continued dry conditions, on July 21 by which time fire activity had become noticeable to park visitors and to the national media the decision was made to suppress all fires. But within a week, fires within the park alone encompassed more nearly 99,000 acres, and by the end of the month, dry fuels and high winds combined to make the larger fires nearly uncontrollable. National news reporters poured into Yellowstone National Park, as did firefighters from around the country, bolstered by military recruits. On the worst single day, August 20, 1988, tremendous winds pushed fire across more than 150,000 acres. Throughout August and early September, some park roads and facilities were closed to the public, and residents of nearby towns outside the park feared for their property and their lives. Yellowstone's fire management policy was the topic of heated debate, from the restaurants of park border towns to the halls of Congress.
By September 11, 1988, the first snows of autumn had dampened the fires as the nation's largest fire-fighting effort could not. The imminent danger to life and property was over, and firefighters were gradually sent home, although the last of the smoldering flames were not extinguished until November. Staff in Yellowstone National Park went to work surveying the impacts of the fires on wildlife, plants, historic structures, trails, and more and answering the demands for information, explanation, and a new fire management policy.
A total of 248 fires started in greater Yellowstone in 1988; 50 of those were in Yellowstone National Park. Despite widespread misconceptions that all fires were initially allowed to burn, only 31 of the total were; 28 of these began inside the park. In the end, 7 major fires were responsible for more than 95% of the burned acreage. Five of those fires were ignited outside the park, and 3 of them were human-caused fires that firefighters attempted to control from the beginning. More than 25,000 firefighters, as many as 9000 at one time, attacked Yellowstone fires in 1988, at a total cost of about $120 million. Thankfully, the fires killed no park visitors and no nearby residents. Outside the park, two firefighters were killed, one by a falling tree and one while piloting a plane transporting other personnel.
Ecosystemwide, about 1.2 million acres was scorched; 793,000 (about 36%) of the park's 2,221,800 acres were burned. Sixty-seven structures were destroyed, including 18 cabins used by employees and guests and one backcountry patrol cabin in Yellowstone. Estimated property damage totaled more than $3 million. About 665 miles of hand-cut fireline and 137 miles of bulldozer lines, including 32 miles in the park, needed some rehabilitation, along with the remnants of fire camps and helicopter-landing spots. Surveys found that 345 dead elk (of an estimated 40,000-50,000), 36 deer, 12 moose, 6 black bears, and 9 bison died in greater Yellowstone as a direct result of the fires; 2 radio-collared grizzly bears were missing and were presumed to have been killed, (although one turned up alive and well several years later). Most of the animals that died were trapped as fire quickly swept down two drainages, and were discovered when biologists subsequently observed scavenging grizzlies, coyotes, and birds feeding on the carcasses. A few small fish-kills occurred as a result of either heated water or dropping fire retardant on the streams. Surveys revealed that less than 1% of soils were heated enough to burn below-ground plant seeds and roots.