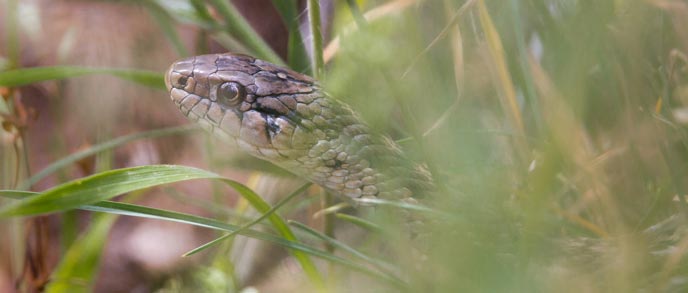 NPS/Herbert
Yellowstone provides a valuable study area; information about the status and trends of reptiles here may shed light on declines documented in other high-elevation protected areas of the western United States. Many reptiles congregate to breed or overwinter, and they can be adversely affected by disturbance or loss of key sites.
Quick Facts
Number in Yellowstone
6 species: bull snake, prairie rattlesnake, rubber boa, sagebrush lizard, valley garter snake, and wandering garter snake. They are less studied than amphibians in Yellowstone.
Status
None of the park's reptiles are federally listed as threatened or endangered.
Researchers began inventorying reptiles and amphibians in 2000.
More Information
References
The list below includes academic publications, government publications, management documents that inform the decision-making process at parks and protected areas, as well as links to websites that provide additional relevant information. The Yellowstone Resources and Issues Handbook, updated annually, is the book our rangers use to answer many basic park questions.
Parker, J. and S. Anderson. 2001. Identification guide to the herptiles of Wyoming. Cheyenne, WY: Wyoming Game and Fish Department.
Patla, D.A. and C.R. Peterson. 1999. Are amphibians declining in Yellowstone National Park? Yellowstone Science. 7(1): 2–11.
Stebbins, R.C. 2003. A field guide to Western reptiles and amphibians. 3rd edition. Boston: Houghton-Mifflin Co.