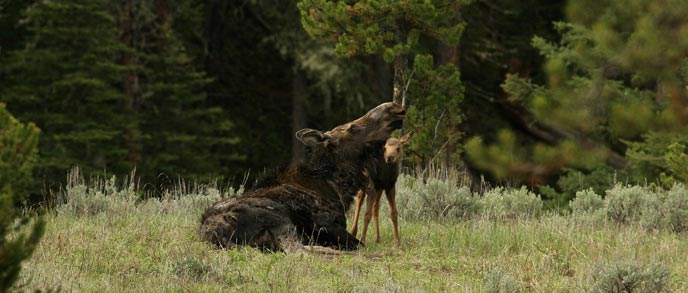 NPS/Peaco
Population
Moose appear to have been scarce in Yellowstone until the latter half of the 1800s and in Jackson Hole until early in the 1900s. Predator control programs, forest fire suppression, and restrictions on moose hunting, contributed to their subsequent range expansion and increased numbers.
Forest fire suppression was probably the most important factor in their population increase because moose in Greater Yellowstone depend on mature spruce/fir forests for winter survival, unlike other North American moose populations that prefer shrubland that has been disturbed by events like fires.
Although some Rocky Mountain moose populations have continued to grow and spread into new habitat, those in Yellowstone have declined. Estimated at roughly 1,000 in the 1970s, by 1996 (the most recent data) the Yellowstone moose population declined to less than 200, with the northern range population down by at least 75% since the 1980s.
The moose population declined steeply following the fires of 1988 that burned mature fir forests. Many old moose died during the winter of 1988–89, probably as a combined result of the loss of good moose forage and a harsh winter. Unlike moose habitat elsewhere, northern Yellowstone does not have woody browse species that will come in quickly after a fire and extend above the snowpack to provide winter food.
Recent studies south of the park also suggest that fires on the summer ranges of migratory moose is partially responsible for the population decline. The population of moose that uses burned areas is declining more rapidly than the portion of the population that forages in unburned areas.
Predation of moose calves by bear and wolf populations may be continuing to limit population growth, but the low pregnancy rates of Greater Yellowstone moose suggest limits set by food availability. Long-term studies suggest that North American moose populations tend to erupt, crash, and then stabilize for a time at a density that depends on current ecological conditions and hunting pressure.
The State of Montana has noted a state-wide decline in moose populations. Moose hunting in the districts immediately north of Yellowstone has been limited to antlered bulls since 1996. Only 2 permits were issued in those districts in 2014. In 2012, Montana Fish, Wildlife and Parks began a study to assess and monitor the population across the state. In winter 2013–2014, a northern Yellowstone National Park moose study began to estimate population abundance and vital statistics of northern Yellowstone moose using non-invasive methods.
Today, moose are most likely seen in the park's southwestern corner and in the Soda Butte Creek, Pelican Creek, Lewis River, and Gallatin River drainages.