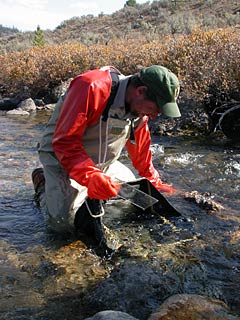 NPS Photo by Todd Koel
Maintaining the Ecological Integrity of the Park
In Yellowstone, bald eagles, ospreys, pelicans, otters, grizzly bears, and other wildlife take precedence over humans in utilizing fish as food. Fishing management and regulations reflect this priority and that of maintaining fish populations that have sufficient number of spawning adults to maintain natural reproduction and genetic diversity.
Because of the increasing number of anglers in the park, more restrictive regulations have been adopted in Yellowstone. These restrictions include season opening and closing dates, restrictive use of bait, catch-and-release only for native fish, and number/size limits for nonnative species. Some waters are closed to fishing to protect threatened and endangered species, sensitive nesting birds, and to provide scenic viewing areas for visitors seeking undisturbed wildlife.
Non-toxic Fishing
Yellowstone National Park has implemented a fishing program using non-toxic tackle. Nationwide, more than three million waterfowl die each year from lead poisoning through ingestion. Because lead from fishing tackle concentrates- in aquatic environments, tackle such as leaded split-shot sinkers, weighted jigs, and soft-weighted ribbon are prohibited. Only non-toxic alternatives are allowed.