Aquatic Ecology of Yellowstone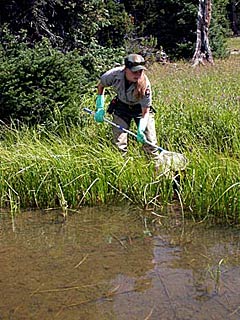 NPS/Koel
Native vs. Nonnative Fishes in Yellowstone
Yellowstone has 13 fish native to its lakes and streams. Native sport fish include three subspecies of cutthroat trout, fluvial arctic grayling, and mountain whitefish. Non-native fish species that were introduced to the park in the late 19th and early 20th centuries include rainbow trout, brown trout, brook trout, and lake trout. Although non-native trout are also important to the angler experience in Yellowstone, they have contributed to a decline in the park's native cutthroat trout and fluvial arctic grayling, especially recently.
History of Fisheries Management
When Yellowstone became a national park, almost 40 percent of Yellowstone's waters were naturally barren of fish—including Shoshone Lake, Lewis Lake, and the Firehole River above Firehole Falls. Early park managers thought it necessary to plant fish into new locations, produce more fish in hatcheries, and introduce non-native species. By the mid-20th century, more than 310 million fish had been stocked in Yellowstone. Because of the realization that many of these activities were harmful to the park, stocking of fishes in the park ended in 1956.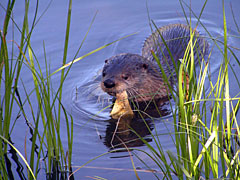 Photo courtesy of Hunter Hutchinson
Current Status of Native Species
The ranges and densities of the park's 11 native fish species have been substantially altered during the past century due to exploitation, introduction of nonnative and exotic species, and natural factors. Non-native species in the park include rainbow trout, brown trout, brook trout, lake trout, and lake chub.
Despite changes in species composition and distribution, large-scale habitat degradation—such as water diversions or water pollution— has not occurred in the park.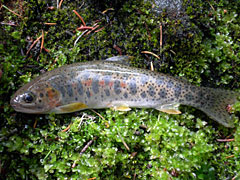 NPS Photo by Todd Koel
Maintaining the Genetic Purity of Cutthroat Trout
Native cutthroat trout are the most ecologically important fish of the park and the most highly regarded by visiting anglers. Nonnative rainbow trout compete with the native cutthroat trout for food and habitat resources, and, even worse, interbreed with native fish, producing hybrids. Once this occurs, the cutthroat population is forever damaged, and cannot be restored without immense expense and a complete removal of the entire fish community from the stream. To reduce the level of hybridization in the park's cutthroat trout waters, anglers are encouraged to harvest rainbow trout. By working together, we can help to ensure that genetically pure cutthroat trout will persist for future generations to enjoy!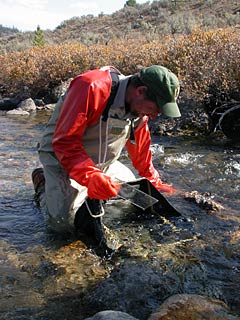 NPS Photo by Todd Koel
Maintaining the Ecological Integrity of the Park
In Yellowstone, bald eagles, ospreys, pelicans, otters, grizzly bears, and other wildlife take precedence over humans in utilizing fish as food. Fishing management and regulations reflect this priority and that of maintaining fish populations that have sufficient number of spawning adults to maintain natural reproduction and genetic diversity.
Because of the increasing number of anglers in the park, more restrictive regulations have been adopted in Yellowstone. These restrictions include season opening and closing dates, restrictive use of bait, catch-and-release only for native fish, and number/size limits for nonnative species. Some waters are closed to fishing to protect threatened and endangered species, sensitive nesting birds, and to provide scenic viewing areas for visitors seeking undisturbed wildlife.
Non-toxic Fishing
Yellowstone National Park has implemented a fishing program using non-toxic tackle. Nationwide, more than three million waterfowl die each year from lead poisoning through ingestion. Because lead from fishing tackle concentrates- in aquatic environments, tackle such as leaded split-shot sinkers, weighted jigs, and soft-weighted ribbon are prohibited. Only non-toxic alternatives are allowed.