Current Issues Facing Fisheries of Yellowstone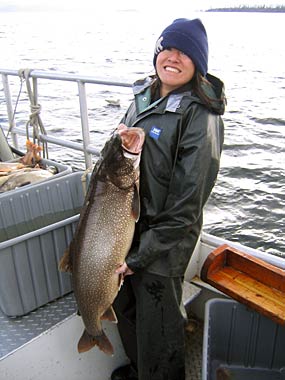 Photo Courtesy of Phil Doepke
Yellowstone National Park is home to the most ecologically and economically important inland cutthroat trout fisheries remaining in North America. However, threats to these native trout have, over the past decade, irreversibly altered and made future sustainability of this thriving and diverse ecosystem uncertain. Science has helped to develop our understanding of the consequences of status-quo management. In fact, without swift and continuing action, negative effects on the native trout populations of Yellowstone—keystone energy sources for numerous mammal and bird species, and a recreational focus for visitors—have the potential to produce impacts that will reverberate throughout the Greater Yellowstone Ecosystem.
For instance, each predatory, non-native lake trout—a species illegally introduced to Yellowstone Lake at least 20 years ago but not discovered until 1994—can annually consume at least 41 cutthroat trout each year. Lake trout have the potential to decimate the Yellowstone Lake cutthroat trout population in our lifetime without heightened and maintained management efforts. Lake trout are not an acceptable substitute for cutthroat trout in the ecosystem because they occupy an ecological niche unavailable to cutthroat-eating predators, threatening the many species, such as grizzly bears, bald eagles, and river otters, that depend on cutthroat trout for survival.
Albeit much more quietly, the brook, brown, and rainbow trout intentionally stocked by managers during the park's early history also have taken their toll on cutthroat trout populations across Yellowstone. The native westslope cutthroat trout of the Madison River, for example, a specialist species requiring pristine habitats, have been eliminated due to their inability to compete with aggressive, non-native trout. In addition, in many park waters the infusion of non-native-trout genetic material into stream-resident cutthroat populations by interbreeding among species has occurred and cannot easily be reversed. The loss to the cutthroat populations is permanent, and any recovery will be achieved only through direct intervention. The recent rainbow trout invasion of the upper Slough Creek meadows, and the resulting loss of that world-renowned fishery's genetic integrity, is an example of how imminent this problem is.
The stakes are high, raising the bar for innovative management and fundraising. The increased magnitude of the problems faced by the park's fisheries, and the accelerated rate at which they are occurring, are straining Yellowstone's resources. Despite this, our hope and enthusiasm remains high as within Yellowstone Lake, cutthroat are showing subtle signs of recovery while lake trout are showing signs of suppression. Within the streams, momentum could not be greater as we near our first cutthroat restoration operation and the replication of a newly discovered, pure-strain westslope cutthroat trout population.