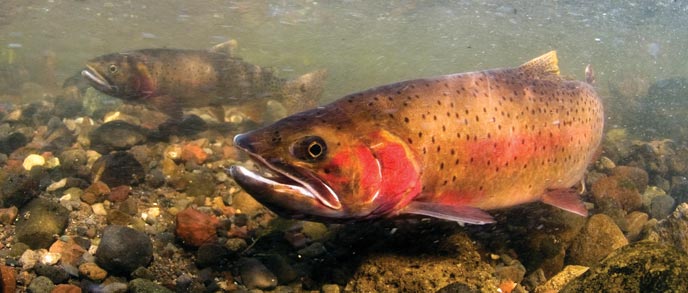 Jay Fleming
For millennia, humans harvested Yellowstone fish for food. From the park's inception more than a century ago, fishing has been a major form of visitor recreation. It is this long-standing tradition and integration with the parks' cultural significance that allows the practice of recreational fishing to continue in Yellowstone National Park today. In some cases, it also contributes to the National Park Service goal of preserving native species. The biological significance of fish to ecosystems makes them an ongoing subject of study and concern.
Learn More: Fish Information Continued...
Quick Facts
Number in Yellowstone
11 native species
3 sport

fish: cutthroat trout (Yellowstone and

westslope

), Arctic grayling, mountain whitefish

8 non-sport fish: longnose dace, speckled dace, redside shiner, Utah chub, longnose sucker, mountain sucker, Utah sucker, and mottled sculpin
5 nonnative species: brook trout, brown trout, lake trout, lake chub, rainbow trout
History
When the park was established, many of its waters were fishless.
Park waters were stocked with native and nonnative fish until the mid-1950s.
Stocking changed the ecology of many Yellowstone waters as nonnative fish displaced or interbred with native species.
By the 1960s, native trout populations were in poor condition and the angling experience had declined.
By the late 1980s, native trout had recovered in some areas due to restrictions in fish harvest.
In 2001, fishing regulations changed to require the release of all native fishes caught in park waters.
Threats
Lake trout were apparently illegally introduced into Yellowstone Lake.
Whirling disease is now present in Yellowstone Lake, the Yellowstone and Firehole rivers, and Pelican Creek.
New Zealand mud snails, which form dense colonies and compete with native species are also present.
Competition and hybridization occurs with nonnative rainbow trout (Slough Creek) and brook trout (Soda Butte Creek).
More Information
Frequently Asked Question: Why is fishing lead-free in Yellowstone?
Birds, such as loons, waterfowl, cranes, and shorebirds, are vulnerable to lead poisoning. While we can do little about natural hazards, we can minimize the effects of lead on these species. Yellowstone National Park bans most lead tackle. (Terminal tackle must be lead-free; large down-rigger weights used to fish for deep-dwelling lake trout are permissible because they are too large to be ingested.)