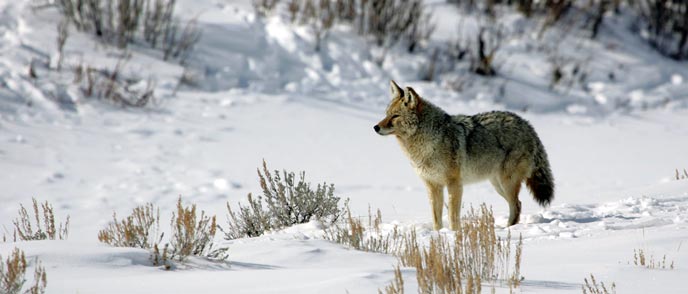 NPS
Coyotes (Canis latrans) are intelligent and adaptable. They can be found throughout North and Central America, thriving in major urban areas as well as in remote wilderness. This adaptability helped coyotes resist widespread efforts early in the 1900s to exterminate them in the West, including Yellowstone National Park, where other mid-size and large carnivores such as cougars and wolves were eradicated. The coyote is a common predator in Greater Yellowstone, often seen traveling through open meadows and valleys. Learn More: Coyote Information Continued...
Quick Facts
Number in Yellowstone
Abundant
Where to See
Meadows, fields, other grasslands, and foraging for small mammals along roadways.
Size and Behavior
Weigh 25–35 pounds, 16–20 inches high at the shoulder.

Average life span 6 years; up to 13 years in the park.

Home range: 3–15 square miles.

Primarily eat voles, mice, rabbits, other small animals, and carrion—and only the very young elk calves in the spring.

4–8 pups are born in April in dens; emerge in May.
History
Like other predators, coyotes were often destroyed in the early part of the 1900s because they sometimes preyed on livestock.

Coyotes continued to thrive because their adaptability enabled them to compensate for the destruction efforts.

Elimination of wolves probably resulted in high coyote population densities; wolves' absence opened a niche that coyotes could partially occupy in Yellowstone.