Seventh Biennial Scientific Conference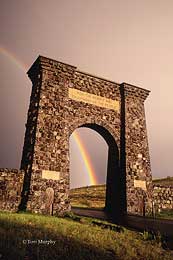 Beyond the arch: Community and conservation in Greater Yellowstone and East Africa
7th Biennial Scientific Conference on the Greater Yellowstone Ecosystem
Purpose and Mission
Conference series: The purpose of the greater Yellowstone conference series, instituted in 1991, is to encourage awareness and application of wide-ranging, high-caliber scientific work on the region's natural and cultural resources. The wealth of subjects and issues to be explored in Yellowstone National Park provides an unbounded font of research possibilities, as well as an unflagging need for their results. This biennial conference series, with the active involvement of professional societies and other institutions, provides a much-needed forum for knowledge-sharing among the hundreds of researchers doing work here, park managers, and the general public.
Seventh Biennial Conference:

The Seventh Biennial Conference, Beyond the Arch: Community and Conservation in Greater Yellowstone and East Africa, reached beyond the boundaries of Yellowstone National Park to seek commonality and difference with parks built on the Yellowstone model, but in a wholly separate social context. Through a publicly-oriented discussion of issues that drew together national parks in the Greater Yellowstone and East Africa, managers, scientists, policymakers, and the public came together to discuss and consider the interdependence of both nature–society relations and natural and cultural history in local and global contexts.
Featured Speakers
The conference's featured speakers included eminent conservationist and political activist Dr. Richard Leakey. Historian Dr. Dan Flores eloquently explored how the national park idea has shaped our ideas about nature. Dr. A.R.E. Sinclair, who literally "wrote the book" on ecosystem processes of the Serengeti—twice—outlined ways in which uninformed management decisions can result in devastating "unintended consequences." Dr. Lee Talbot shared his early experiences conducting parks research in East Africa; Dr. Charles Preston drew connections between Yellowstone and the East African parks and the conundrums facing their managers; Dr. Steven Sanderson discussed the state of conservation across the globe, and Dr. Robin Reid shared the results of recently-collected data concerning human effects on the African landscape.
Brief Biographies of the Featured Speakers (68 KB PDF)