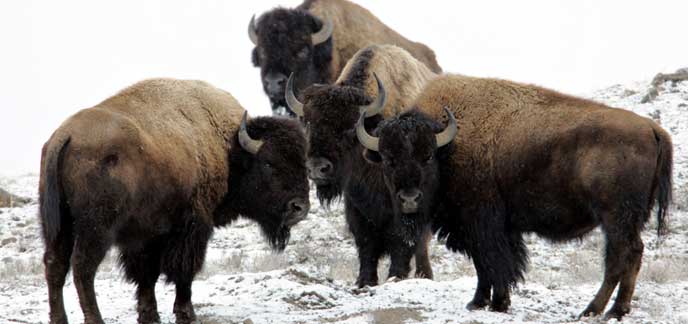 NPS/Peaco
Success and Controversy
The protection and recovery of bison in Yellowstone is one of the great triumphs of American conservation. In 1902, after years of market hunting and poaching, there were only about two dozen bison left in Yellowstone. The next hundred years chronicled the slow, but determined efforts of dedicated people to bring this species back from the brink of extinction. The National Park Service is very proud of its role in restoring this iconic species. So, if the bison story in Yellowstone has been such a success, why is there controversy?
Here are 8 things to know about bison management today:
1. Yellowstone's bison are unique. Unlike most bison in the West, which are managed as domestic livestock, Yellowstone's population has thousands of animals that all exhibit wild behavior like their ancient ancestors. They are exposed to predators, severe environmental conditions, and show no evidence of any interbreeding with cattle. A symbol of wild America, the Yellowstone bison are an essential part of a complex ecosystem that is much larger than the national park. Our goal is to maintain this viable, wild, migratory population of bison.
2. Migration and tolerance are the crux of the issue. Bison are a migratory species and they move across a vast landscape. When they are inside Yellowstone, they have access to all the habitat. But in the winter, when they migrate to lower elevations outside the park in search of food, the surrounding states and some private landowners don't offer the same access to habitat. Wild bison are only allowed in limited areas outside of Yellowstone because some are infected with the disease brucellosis that can be transmitted to cattle. Interestingly, some elk that live across the ecosystem, as well as some elk in the park, also carry brucellosis, but their movements are not constrained. For long-term conservation, Yellowstone bison need similar access to habitat and tolerance that other wildlife species are given.
3. The future of bison management is a shared responsibility. In 1995, Montana sued the National Park Service because bison were migrating out of the park onto state lands. A court-mediated settlement was reached in 2000 creating the Interagency Bison Management Plan (IBMP). Today, the park and seven other partners implement this plan, which was approved by the secretaries of the Interior and Agriculture and the Montana governor. While the plan calls for a target population of around 3,000 animals, the size of the herd and the level of tolerance outside the park are two issues often debated by the IBMP partners and their constituents.
4. Population reduction is a routine, if unpleasant, part of meeting the population target in the IBMP. The Yellowstone bison population has high reproductive and survival rates, so when conditions are good its numbers increase rapidly. Since 2000, the herd has averaged more than 4,000 animals each year. Until there is more tolerance for bison in the surrounding states, IBMP managers will continue to cull the herd using two methods: (1) hunting outside the park, and (2) capturing bison near the park boundary then transferring them to Native American tribes for slaughter and distribution of meat and hides to their members. We understand that many people are uncomfortable with the practice of capture and slaughter—we are too, so we're looking for additional alternatives.
5. Doing nothing jeopardizes our goal. We are often asked "Why not just let the bison roam?" The IBMP calls for population control to limit the probability that bison will come in contact with cattle and spread brucellosis. Letting large numbers of bison move unchecked outside the park would threaten tolerance in the future. Faced with increasing numbers of bison, the states could revert to stricter rules again. The loss of current tolerance would be a huge setback for bison conservation.
6. We are investigating other options. We would gladly reduce the frequency and magnitude of capture/slaughter operations if migrating bison had access to more habitat outside the park or there was a way to transfer live bison elsewhere. Currently, it is against state and federal laws to move any wild bison exposed to brucellosis anywhere except to meat processing facilities. The park is currently studying the feasibility of developing quarantine facilities for bison. From quarantine, animals that repeatedly test negative for brucellosis could be sent alive to other public, private, or tribal lands for conservation, hunting, or food production. If quarantine facilities are built in the future, they will not entirely replace the need for capture/slaughter, nor will they change hunting opportunities outside the park.
7. Hunting inside the park is not an option. Hunting is prohibited in Yellowstone National Park. As a result, the park contains one of the most intact and easily viewable collections of wild animals in North America, drawing visitors from around the world. Now, several groups want to open the park to bison hunting so that they can hunt in the fall and increase the number of animals that are harvested each year. The park strongly opposes this idea. Allowing any hunting in Yellowstone will affect the behavior of many different animals and drastically change the experience visitors have in the park. This is not the future we want for Yellowstone and we don't believe that it's the future the public wants for Yellowstone.
8. It's time to craft a new plan and find different ways for the public to get involved. The park and the state of Montana are working together to update the current bison management plan (IBMP). While the existing plan has been effective at preventing brucellosis transmission and maintaining a viable population, we believe that we've outgrown it—new data about general biology and disease prevalence are available, and public opinion is shifting toward more tolerance for bison in Montana. We need a new paradigm that accommodates larger herd sizes and allows bison to move more freely on suitable public lands in the Greater Yellowstone Ecosystem. We look forward to engaging the public in this process and exploring new ways for people to make their voices heard. You can find more information about this planning process at the NPS PEPC website at http://parkplanning.nps.gov/YELLBisonPlan. The 90-day public scoping period closed June 15, 2015. The Public Scoping Comment Report was released on November 19, 2015
We encourage you to learn more about bison conservation on our website. A good place to start is by reading our frequently asked questions or watching our video Conserving Wild Bison: Finding Space for an American Icon.