Bear Management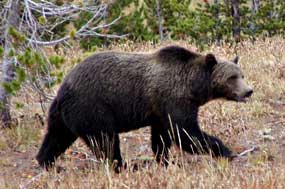 Photo courtesy of Glen Rudie
During its first century, Yellowstone National Park was known as the place to see and interact with bears. Hundreds of people gathered nightly to watch bears feed on garbage in the park's dumps. Enthusiastic visitors fed bears along the roads and behaved recklessly to take photographs.
Beginning in 1931, park managers recorded an average of 48 bear-inflicted human injuries and more than 100 incidents of property damage each year in Yellowstone. In 1960, the park implemented a bear management program directed primarily at black bears and designed to reduce the number of bear-caused human injuries and property damages and to re-establish bears in a natural state. The plan included expanding visitor education about bear behavior and the proper way to store food and other bear attractants; installing bear-proof garbage cans; strictly prohibiting feeding of bears; and removing potentially dangerous bears, habituated bears, and bears that damaged property in search of food. The open-pit garbage dumps remained open.
After 10 years, the number of bear-caused human injuries decreased slightly to an average of 45 each year. In 1970, Yellowstone initiated a more intensive program that included eliminating open-pit garbage dumps inside the park with the intention of returning bears to a natural diet of plant and animal foods.
Bear researchers and brothers John and Frank Craighead predicted bears would range more widely and come into more conflict with humans as the bears were weaned off of human food. This prediction was realized in the first years of the revised management program: an annual average of 38 grizzly bears and 23 black bears were moved to backcountry areas, and an annual average of 12 grizzly bears and 6 black bears were removed from the population. However, the number of bear-human conflicts decreased to an annual average of 10 each year after 1972. Bear removals also decreased.
In 1983, the park implemented a new grizzly bear management program that emphasized habitat protection in backcountry areas. The park established "bear management areas" that restricted recreational use where grizzly bears were known to concentrate. The goals were to minimize bear–human interactions that might lead to habituation of bears to people, to prevent human-caused displacement of bears from prime food sources, and to decrease the risk of bearcaused human injury in areas with high levels of bear activity. This program continues today.