Bald Eagles Information Continued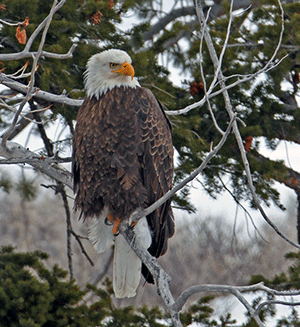 NPS/Peaco
Population
Bald eagles, which may reuse the same nest year after year, occupy territories near the park's major rivers and lakes. The number of eaglets that fledge each year depends partly on weather and can fluctuate widely. Juveniles may migrate west in the fall but adults often stay in the park year-round. More than half of the park's known bald eagle nests have been in the Yellowstone Lake area, where the productivity and success rates are generally much lower than in the rest of the park. However, in 2013 all six active nests on Yellowstone Lake were successful, indicating that eagles may have switched to other prey sources in the absence of cutthroat trout.
Outlook
Research has shown that human presence can disturb eagle nesting and foraging, therefore nest areas in national parks may be closed to visitors. Yellowstone manages nest sites on a case by case basis.
From 2010 to 2013, a raptor observation program documented 24 raptor species in Yellowstone. Bald eagles were the second most commonly reported species (16%) after red-tailed hawks (22%). A recent study found little evidence to support the claim that cutthroat trout declines have resulted in lower nesting success for bald eagles on Yellowstone Lake.
More Information
References
The list below includes academic publications, government publications, management documents that inform the decision-making process at parks and protected areas, as well as links to websites that provide additional relevant information. The Yellowstone Resources and Issues Handbook, updated annually, is the book our rangers use to answer many basic park questions.
1940. Bald Eagle Protection Act of 1940 In 16 US Code 668-668d, 54 Stat. 250.
Annual Bird Program Reports. National Park Service, Yellowstone National Park.
Baril, L.M., D.W. Smith, T. Drummer, and T.M. Koel. 2013. Implications of cutthroat trout declines for breeding opsreys and bald eagles at Yellowstone Lake. Journal of Raptor Research 47(3): 234–245.
Buehler, D.A. Bald Eagle. The Birds of North America Online.
Harmata, A. 1994. Yellowstone's bald eagles: Is the park a "black hole" for the national symbol? Yellowstone Science 2.
Harmata, A.R. and B. Oakleaf. 1992. Bald eagles in the greater Yellowstone ecosystem: an ecological study with emphasis on the Snake River, Wyoming, Edited by Wyoming Game and Fish Department. Cheyenne, WY.
Harmata, A.R., G.J. Montopoli, B. Oakleaf, P.J. Harmata, and M. Restani. 1999. Movements and survival of bald eagles banded in the Greater Yellowstone Ecosystem. Journal of Wildlife Management 63(3):781–793.
Swenson, J.E. 1975. Ecology of the bald eagle and osprey in Yellowstone National Park. M.S. Bozeman, MT: Montana State University.