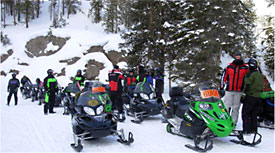 Snowmobiles as we now think of them—one—or two-seaters with handlebars and open cockpits—first arrived at Yellowstone's gates in 1963. By the early 1970s, when the park began to regulate oversnow vehicles, the sport was exploding: Peak sales of half a million machines in 1971 and nearly two million between 1970 and 1973. But strict management of motorized uses in the park did not occur until the early 2000s, when limits on the number of machines, speed zones, nighttime closures and other measures were adopted. In the meantime, management was a challenge. More people were coming in winter. More of them were aboard snow vehicles. And with a parallel rise in the popularity of human-powered journeys into the winter backcountry, conflicts were inevitable.
For many visitors, the machines were the best and most practical way for everyone, and not only athletic types on skis or snowshoes, to enjoy the vast park and its winter extremes. The "sleds" also were a useful tool for Yellowstone personnel to do their jobs in a daunting work environment. Finally, they were a business opportunity for park "gateway" communities hoping to escape, at last, the feast-and-famine cycle of tourism around the park. Until snow vehicles came, Yellowstone to them was a travel hot spot from spring to fall—and cold as ice through winter.
But for other lovers of the park, motorized oversnow use shattered an almost sacred silence and solitude that had blanketed Yellowstone since it first became a park. To them, the noisy machines threatened wildlife already stressed to the limit by the park's unforgiving winters. So they raised vocal protests, even as they held their breath against clouds of blue smoke and covered their ears against the machines' whine.