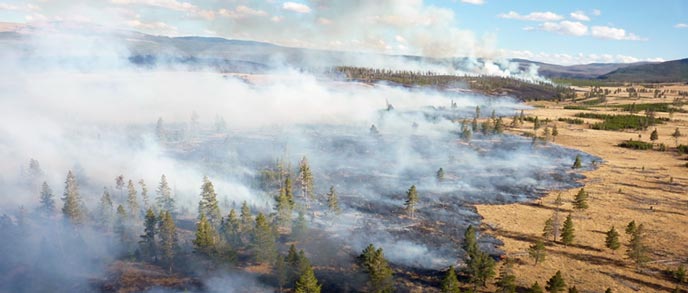 NPS/Lewelling
Fire has shaped the Greater Yellowstone Ecosystem for thousands of years. For Yellowstone's first 100 years, managers extinguished naturally occurring fires to preserve park resources. Today, the National Park Service aims to restore fire's role as a natural process. (Follow Current Fire Activity)
The primary goals of Yellowstone's fire management program are to:
Ensure the safety of firefighters and the public in every fire management activity and
Allow fire to play its ecological role in the park to the greatest extent possible through the use of incident objectives, strategies, and tactics.
Fire promotes habitat diversity by removing forest overstory, allowing different plant communities to become established, and preventing trees from becoming established in grassland. Fire also rapidly returns nutrients to the soil while reducing the amount of dead, woody debris that threatens to destroy forest structure in an unwanted fire. This also allows for the sprouting and regrowth of plants, shrubs, and trees—particularly the fire-dependent lodgepole pine, which is the dominant tree species within Yellowstone's ecosystem. This is especially important in Yellowstone's cold and dry climate, where decomposition rates are slower than more hot and humid areas. (See Ecological Consequences of Fire for more information.)
Fire managers use two tools to mimic fire's natural function in the ecosystem:
Planned Fuel Treatments include mechanical and/or prescribed fires. Mechanical thinning removes trees and brush with tools such as chainsaws, resulting in piles of cut material. Mechanical thinning helps provide community protection from unwanted wildfires and provides safer conditions for firefighters. Prescribed fires are ignited by qualified park fire staff under certain pre-determined conditions. These fires are carefully managed to achieve goals such as public safety (by protecting developed areas) and ecosystem restoration (by clearing unsafe accumulation of dead and down wood).
Wildfires are unplanned ignitions and can be caused by people or lightning. Wildfires ignited by lightning can be managed in certain areas of the park under specific conditions and with close surveillance by park fire staff. These fires are managed to fulfill their natural role within the ecosystem. When wildfires threaten human health and safety, park fire staff will suppress them.
More Information
Guiding Documents
Yellowstone's Wildland Fire Program