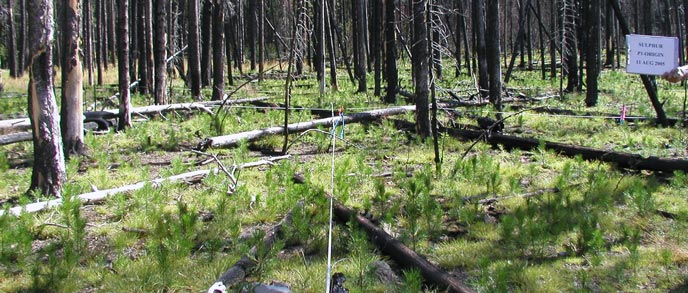 NPS
The National Park Service maintains the Fire Effects Monitoring Program to monitor the effects of planned fire management actions. The Yellowstone fire effects monitoring crew collects information on the long-term effects of fire and fire management activities. The crew collects data on fuel loads, plant populations, tree regeneration, non-native species and other aspects of the park's ecosystems. Monitoring is a major component of the adaptive management process.
Wildland fire management requires up to date information on weather and fuels, which the fire effects monitoring crew provides. The crew is in charge of a network of weather stations used for collecting afternoon fire weather parameters, and collects live and dead fuels throughout the season at various locations across the park. They also monitor precipitation amounts, drought indices, and lightning occurrences which are used to determine the current and expected fire danger.
Once a fire starts, fire effects monitors collect information on the fire behavior, fuels, vegetation, terrain, and weather within the fire area. They also map the perimeter of the fire, and all of this information helps fire managers to predict the fire's anticipated direction, intensity and spread rates.
More Information
Yellowstone's Wildland Fire Program