Wildland Fire Engines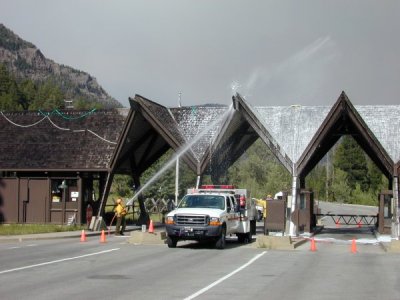 Yellowstone has two wildland fire engines. Both are medium-sized engines to be used either for wildland fire operations or structure protection in the wildland-urban interface. Currently, only the engine foreman position is staffed. A crew of two to three crewmen is gathered on an as needed basis until a crew is hired next year.
Engine crews are used for initial attack on developing fires close to roads. The crew can hike or be flown to fires in more remote areas. During extended attack, engine crews support fireline production, structure protection, and helicopter operations. One advantage of engine crews is the ability to use water to build "wetline". Wetline is fireline that uses water in place of digging to mineral soil. This minimizes the impact to vegetation and limits erosion.
Structure triage is the process of identifying which structures can be saved and which can not be saved. For those structures that can be saved, sprinklers and foil wrap can be used for protection. Reducing fuels around the structures is also a valuable technique to reduce the intensity of fires around structures.
Yellowstone maintains a cache of pumps and water handling equipment. Pumps are of several different varieties and capacities from small pumps for mopping up to large pumps to support structure protection.