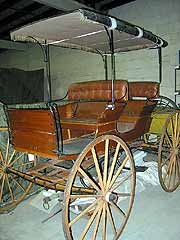 This type of surrey was built by the Joubert & White Company of
Glens Falls, New York
, and is sometimes referred to as a "
Glens Falls
buckboard". This specific example has commonly been referred to as the "Paymaster's buggy", but research suggests that before 1912, the U.S. Army used only Abbot-Downing Company Concord buggies. Judge John W. Meldrum (the fourth
U.S.
commissioner in
Yellowstone
) may have used this surrey; the style of the vehicle number, however, suggests it may have been part of the Yellowstone Park Transportation Company fleet prior to 1917. Vehicles of this type would have been available to small private parties touring the park. It was collected from a loft in the park's old fire cache in 1996. The body was found separated from the undercarriage, with only three wheels (two originals and one reproduction), which were also detached. A fourth wheel was fabricated and the other three wheels trued, and the body was reattached to the undercarriage.