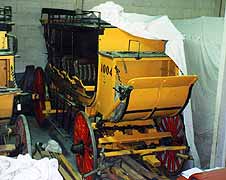 The Yellowstone Park Transportation Company's roots date back to it's association with the Northern Pacific Railroad. In 1883 a stage line was created which ran from the Northern Pacific terminal in Cinnabar,
Montana
(later relocated at
Gardiner, Montana
) to and through
Yellowstone
Park
. By 1886, the company had a fleet of sightseeing vehicles, the most popular being the Yellowstone Coaches, which were painted bright yellow and manufactured by the Abbot-Downing Company of
Concord, New Hampshire
. The larger six-horse "Tally-Ho" stagecoaches transported visitors from the train depot to the hotel at Mammoth Hot Springs. Yellowstone Observation Wagons, which had a four-horse team, were then used to take visitors on the "Grand Loop" tour through the park.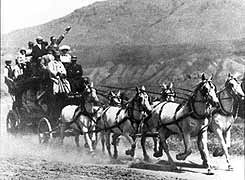 6-Horse "Tally Ho" Yellowstone Observation Coach, Yellowstone Park Transportation Company "1004". Museum Catalog Number YELL 90054. This stagecoach features four interior forward-facing seats and one exterior rear seat. This vehicle would have also featured seats on the roof, but none survive on this or any other Tally-Ho coach in the collection. The passenger compartment is secured to the undercarriage by original style leather thorough braces. "
YELLOWSTONE
PARK
" is in yellow letters along the sides of the canopy, "TRANSPORTATION CO." is in red along the body panels, and "1004" is painted in black on both sides of the driver's box. The original leather luggage boot is secured to the aft exterior of the body.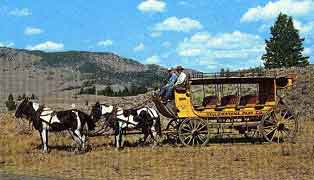 This vehicle is composed of both historic and contemporary materials, the modern elements probably date from the late 1950s to the early 1970s (the vehicle's last period of use), and include fiberglass and plywood used in repairs, black vinyl-covered seat cushions, and non-historic paint. This coach was involved in a serious accident at Roosevelt Lodge in 1974, when it tipped over while making a turn. Following the accident, it and other "original" stagecoaches were replaced with modern reproductions for safety reasons.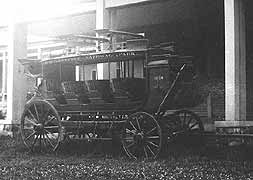 Photo Captions:
(YELL 90054) Abbot-Downing "Tally-Ho" stagecoach in the park's museum collection.
(YELL 133564) Six-horse "Tally-Ho" stagecoach enroute from the Northern Pacific Railroad depot in
Gardiner , Montana
to Mammoth Hot Springs, taken about 1910. The seats on the roof were reportedly the most sought after by visitors; unfortunately, none of the examples in the park's museum collection retain these seats.
(YELL 142430) Image from a circa 1950s postcard showing a "Tally-Ho" (possibly the same 1004 numbered coach in the collection) taken near the Roosevelt Lodge. Although missing the roof seats, the coach at this point appears to retain most of its other original features.
(YELL-2012-3) A recently acquired image of a "Tally-Ho" stagecoach also numbered 1004. This photo clearly shows the roof seats still intact.